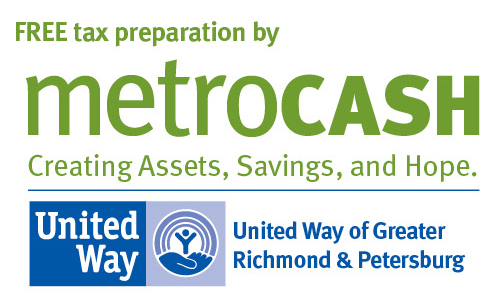 What is Metrocash?
Metrocash is a program of United Way of Greater Richmond & Petersburg comprised of social service, nonprofit, faith-based, business, and government organizations that serves the Greater Richmond region. Founded in 2002, the Metrocash mission is to strengthen the financial independence of working families to achieve greater financial independence by advocating for the Earned Income Tax Credit (EITC), providing cost free tax preparation services, and promoting financial education.
For tax year 2014, Metrocash partners electronically filed over 3,000 tax returns totaling $2,910,749 in federal refunds and $966,828 in EITC refunds. In addition to boosting income for individuals and families, Metrocash helped save workers an estimated $626,800 in tax preparation fees (based on $200 tax preparation rate).
Frequently Asked Questions:
Do I qualify?
Yes, if your household income is $54,000 or less in 2015. You are eligible for free income tax preparation at a Metrocash site or you can prepare your own taxes for free online at www.myfreetaxes.com.
Who does my taxes?
Your taxes will be prepared by IRS certified volunteer preparers. Each return is screened by a quality reviewer on site to ensure that your return is accurate.
Where do I go?
Click here for a Metrocash flyer (or Metrocash poster) with a complete list of locations, dates, and times or dial 2-1-1. (Metrocash Flyer 2016 Spanish)
What do I bring?
YOU MUST BRING:
     -Photo Identification
     -Social Security or ITIN card for each person on tax return
     -W-2, W-2G and 1099-R forms for all jobs worked in 2015
BRING IF THESE APPLY TO YOU:
     -Form 1095 A, B, or C – Health Insurance Statement
     -Unemployment Compensation, Form 1099-G
     -Childcare provider name, address, and tax ID number
     -A copy of last year's state and federal returns (if available)
     -All other tax related documents
     -Bank account information to direct deposit your refund
     -If you are married filing jointly, both spouses must come to sign the return