By Jermaine Broady, Chair of United Way Young Leaders Society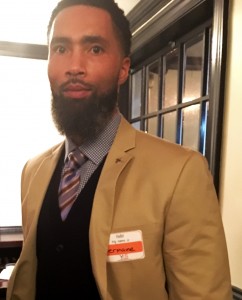 My time as Chair of the United Way Young Leaders Society has been one of the most rewarding experiences of my life. I recently moved back to the Richmond area and was looking for opportunities to get involved within my community. The opportunity first came while conducting a workplace campaign for the city of Richmond, and the Director of Public Campaigns mentioned a new group that was forming for Young Leaders. It sparked some interest, but for me the first year was about exploring United Way's work and seeing the level of commitment by other members. When asked to be the chair going into the second year of conception, that was something that made me a little nervous. Such thoughts like, can I do this? Will I be successful? And many other thoughts crossed my mind, but my years as a marine led me to understand the importance of good leadership.
This year as chair has provided me the chance to work in the community for National Night Out, several volunteer events, and Think +a Drink events. I have met a lot of great young leaders and some I have had the chance to inspire and likewise find inspiration. Our United Way Young Leaders night out with Richmond Mayor Dwight C. Jones opened a door for me to meet with the mayor that I otherwise would not have had.
Finally, having the chance to present our success and progress to the members of the United Way board allowed them all the opportunity to see how committed and dedicated we are. By harnessing such support, new opportunities, like the United Way Young Leaders Mentorship Pilot Program, are being provided to members that would expose them to the knowledge of established professionals. Board members and Young Leaders can share their wealth of knowledge about creating positive change in the areas of Education, Income and Health. It has been an honor thus far and I look forward to the future of the United Way Young Leaders Society, and what we'll accomplish in the Greater Richmond and Petersburg region.
As I rotate off the steering committee, I look forward to continuing as a member of the United Way Young Leader Society under the leadership of Eileen Jackson, an attorney at Williams Mullen, and the rest of the Young Leaders Steering Committee.
Do you want to be leader in our movement to LIVE UNITED? Complete the Interest Form and Volunteer Agreement to be on the Young Leaders Steering Committee by June 17, 2016 or nominate someone who think will be impactful Young Leader.