Women United
Bringing women together to build a stronger community.

Women United is an exclusive group for female members of our Leadership Circle and Alexis de Tocqueville Society. This important giving community brings women together to learn about community needs and leverage their collective resources to solve problems for local women and children.  
---
Staying Connected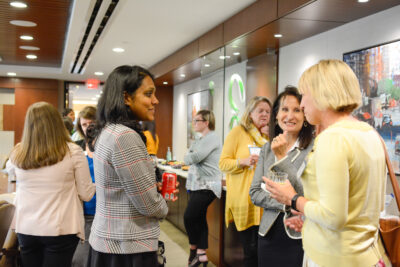 Women United members receive exclusive access to regular meetings, events and volunteer opportunities. These activities bring together local female leaders from a variety of sectors to understand and help solve the problems in our community, particularly as they relate to women and children. 
Women United members are also invited to all Leadership Circle and general United Way events, including Leadership Luncheons and our annual Steps to Success Awards.  
Women United Steps to Success Socials
This is an ongoing series of virtual and in-person events exclusively for Women United members. These socials bring together women in the community to learn about individual components of United Way's Steps to Success framework and how these issues impact women and children in our region. Stay up-to-date on upcoming events here.  
This exciting new program offers childcare scholarships to local single mothers working to advance their education or workforce training. Women United members lead this program by making scholarship decisions, planning events and providing encouragement and support to WomenRise scholarship recipients.  
---
For more information on Women United and to become a member, contact:
Heather Farber
Manager of Leadership Giving
farberh@yourunitedway.org