Young Leaders Society Update – August 2021
In 2021, we have been considering the most impactful ways to bring people together to solve problems in our region. As a result, we are transitioning away from the Young Leaders Society membership model and hope you will help us shape a new chapter of young people giving, advocating and volunteering with United Way.
There are many ways for Young Leaders Society members to stay involved and continue volunteering with our local United Way. Young Leaders Society members are invited to join one of United Way's other giving communities, including our Leadership Circle and Women United groups, serve on our Community Impact Council or take a leadership role in an ongoing United Way program like United Way Literacy Kits or United Way's Tax Assistance Programs.
To help shape the future of volunteer engagement or take a leadership role, contact Emily Watkins at watkinse@yourunitedway.org.
United Way's Young Leaders Society brings together the next generation of community leaders and focuses on giving, volunteering and advocating to create a better Richmond and Petersburg region for us all.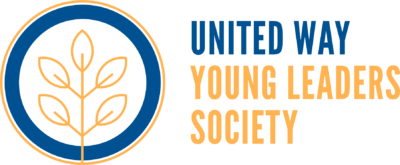 Members learn about our community's challenges and develop fresh, smart solutions while simultaneously making connections with community leaders and expanding their skill set.
If you are a young professional in the Richmond and Petersburg region and you have a passion for making a difference, we invite you to join the Young Leaders Society.
Membership in our Young Leaders Society allows you to:
Network with young professionals from across the region;
Connect with community leaders and philanthropists from all generations;
Receive exclusive access to special events, speakers and a monthly newsletter;
Build leadership skills through trainings and committee work; and
Participate in exclusive volunteer opportunities!
All Young Leaders Society members support the work of United Way of Greater Richmond & Petersburg with an annual donation of $250 or more.