Angel Wright is United Way's Associate on Loan from Publix Supermarkets. She is working with United Way this fall, joining our staff as we work with businesses and organizations across the region to raise awareness of United Way, our Steps to Success and the important work underway in our communities. She also works at Publix locations across the region and will be helping to oversee the grand opening of Publix's Mechanicsville location in November.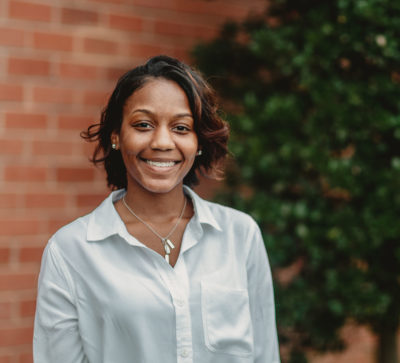 My name is Angel Wright and I am the Publix Supermarkets Associate on Loan with United Way Greater Richmond and Petersburg. Last October, my husband and I relocated to Richmond from Atlanta to help Publix Supermarkets open up stores in the Richmond area. When my manager told me he nominated me for this position, I was almost certain that I would not be selected. Not because I thought I wasn't qualified, but because only one individual is picked for the entire Northern Region! So when I found out I was selected, it was such a big deal for me. I would be able to utilize my Bachelor's Degree in marketing and be able to assist an organization that helped many of my family members at a very vulnerable time.
Being originally from New Orleans, I had a personal encounter with United Way when Hurricane Katrina hit. Many are familiar with the devastation the hurricane caused to the city of New Orleans. Many families were displaced and without basic needs like food, water and shelter. Everyone was in desperate need of help and aid. A large number of individuals and organizations did everything they could to help out. But the one organization I could remember my grandmother talking about the most was United Way of Southeast Louisiana. Those individuals working with United Way did everything they could to help those who were affected, even though a majority of the volunteers were also impacted by the hurricane. But that did not stop them from being there for their community.
Because of United Way's kindness and generosity, I have been donating faithfully since I joined Publix in 2011. It's important that we continue to help our communities in any way we can. I am so honored to work with United Way over the next 14 weeks and see just how much of an impact they are making on my new community.
News and Updates
November 2018 – Angel experienced first-hand the importance of basic needs.
October 2018
– Preparing for college or a career is a huge milestone on our
Steps to Success
. See what Angel has to say about her college and career journey.