United Way works with 40+ local and regional nonprofit agencies to tackle each of our nine
Steps to Success
. 
Get to know these agencies
and learn about their partnership with United Way. In 2018, we invited
Jay Swedenborg
, CIS Administrator at Communities In Schools of Chesterfield, to tell us about his work.
Update: Communities in Schools of Chesterfield has a new Executive Director! Ashley Hall took over in 2018.
Tell us about your current role and your professional background.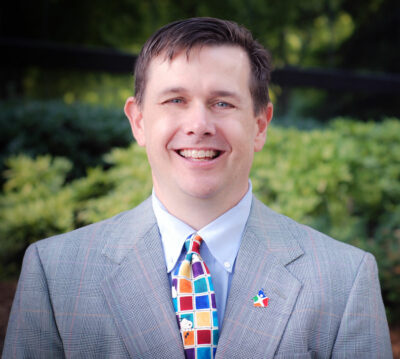 I began my career as a Communities in Schools (CIS) Site Coordinator in early 1994 and in 2010, I became the Executive Director. My role is to work directly with the site coordinators at each of our six Chesterfield schools, work with a dynamic Board of Directors, and coordinate/collaborate with a host of community partners to provide resources and supports to the students and families we serve. Simply put, CIS of Chesterfield is a dropout prevention program and our model brings resources into school buildings and matches those resources with students and families in-need to promote student success in school and in life. Our work is very "relationship" based and we work tirelessly to engage students, families and community partners. We are professional "good guys" and we do "whatever it takes" to support students!
What is CIS Chesterfield's mission?
CIS of Chesterfield surrounds students with a community of support, empowering them to stay in school and achieve in life. In 2016-17, CIS of Chesterfield served over 4,700 students at six Chesterfield County Schools. CIS Site Coordinators delivered three tiers of service to their school communities (during the school day, before and/or after school, and in the evenings):
Tier 1 – widely available resources designed to foster a positive school climate & address school-level risk factors (prevention programming, parent workshops),
Tier 2 – targeted services typically provided in a group setting to students with a common need (after-school programs, small groups),
Tier 3 – intensive, individualized services typically provided in a one-on-one setting to students with highly specific needs.
How does CIS Chesterfield's work support the Middle School Engagement component of United Way's Steps to Success?
Our focus is on improving academics, improving student attendance and decreasing the number of students that receive out-of-school suspensions. We agree with United Way's Steps to Success – middle school is a critical time of transition. Quite honestly, we see middle school as a challenging time for students – a time when they are making choices (good or bad) that will significantly impact their lives (now, in high school and as they become adults). We are appreciative of the opportunity to work alongside United Way, our network of community partners and our mentors and volunteers to invest in the lives of middle-school students.
What do you think is the biggest value United Way brings to CIS Chesterfield?
I think United Way's Steps to Success continuum is a greater descriptor of the value that the United Way brings to CIS of Chesterfield.
United Way looks at the big picture. They have identified the key ingredients that create a healthy community and they support a cadre of local non-profits that work collaboratively to improve the quality of life for all.
United Way provides financial support, opportunities for inter-agency collaboration and educational opportunities for non-profit leaders.
How have needs in our region changed over the past 10 years?
Across our region, we have seen consistent growth in the numbers of students and families that are living in poverty. Poverty has a very clear and direct impact on education. Students in poverty have decreased verbal exposure before they start school and in many circumstances are dealing with multiple traumatic experiences and day-to-day insecurities (housing, food, exposure to illicit drug abuse, parental incarceration).
It sounds overwhelming, but the solution is simple: Young people of all backgrounds and abilities thrive when adults and the greater community care about them and invest in them at a personal level and in a personal way. That's what CIS of Chesterfield and United Way of Greater Richmond & Petersburg do!
More information: