United Way works with 40+ local and regional nonprofit agencies to tackle each of our nine
Steps to Success
.
Get to know these agencies
and learn about their partnership with United Way. We invited
Amory James
, Director of Feed More's Meals on Wheels and the Community Kitchen, to tell us about his work.
Tell us about your current role and professional background.
I am the Director of Meals on Wheels and the Community Kitchen at Feed More. I manage procurement and menu creation for the Steve and Sara Bayard Community Kitchen, which serves about 3,000 meals per day across our 34 city and county service area.
Before coming to Feed More, I graduated from the Florida Culinary Institute and worked in hotels, country clubs, health care and higher education.
What is the Meals on Wheels program?
Feed More's Meals on Wheels program focuses on seniors and home bound neighbors that can't shop or cook for themselves and don't have a reliable way to maintain a healthy diet. With every meal hand-delivered to our recipients, our goal is to help keep these neighbors safe, independent and in their own homes for as long as possible. In fact, Meals on Wheels can serve a senior for an entire year for the same cost as just one day in a hospital or 10 ten days in a nursing home.
Our Meals on Wheels program also reduces isolation and reassures and comforts families who live far away from loved ones, providing recipients with a friendly smile and that important safety check, making the program extend far beyond the meal.
Our Community Kitchen prepares each meal from scratch, catering to a wide variety of dietary needs. From diabetics to vegetarian to dysphagia, our kitchen staff and volunteers truly do it all.
Currently, we serve more than 900 people each day throughout 14 cities and counties in the greater Richmond area.
 Are you recruiting volunteers for Meals on Wheels? How can someone get involved?
We are incredibly fortunate to have such dedicated volunteers for our Meals on Wheels program. Each day, volunteers work in the Community Kitchen preparing and packaging the meals that will go out to our recipients the next day. Whether it's chopping vegetables, scooping out fruit cups, preparing chicken or working the packaging machine, each job is essential to making our Meals on Wheels program run smoothly.
Other Meals on Wheels volunteers work in our dispatch area located at our main campus in metro Richmond to pack meals in coolers for our volunteer drivers to deliver them. Our volunteer drivers play an important role in the program by not only delivering meals to recipients, but also providing a safety check – making sure our recipients are safe and feeling OK. Our volunteer drivers provide our Meals on Wheels recipients with a lifeline to the outside world, as sometimes our volunteers are the only person they see all day.
We are currently recruiting Meals on Wheels volunteer drivers for select meal distribution sites, specifically in south Richmond, including Highland Springs and the Tri-Cities. Those that are interested in getting involved can visit our website at FeedMore.org to fill out a volunteer application or reach out to our Volunteer Services Department directly at volunteer@FeedMore.org.
What do you see as the biggest value United Way brings to your organization?
United Way has been an extremely valuable partner in helping Feed More and other organizations build a stronger community. Whether it's helping us reach an audience of people that are interested in giving their time, funds and talent to Feed More, or getting those who are in need connected to our services through their 2-1-1 phone number, United Way is an integral part of our community.
Through a generous grant, United Way also supports our Meals on Wheels program, helping us deliver the nutritious food and a friendly smile to our home bound neighbors each weekday. As part of the United Way grant, we have established a comprehensive survey that goes out to our Meals on Wheels recipients twice a year about food insecurity and their general feelings of safety. These surveys are invaluable to us in making sure that our program is working and helping those in need in the most effective ways possible.
More Information: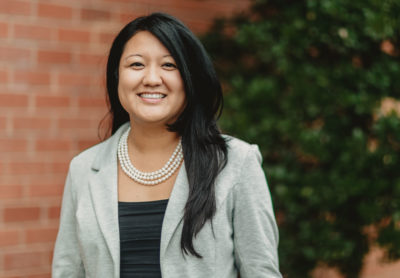 Staff Spotlight
United Way's Kim Domingo volunteers with Feed More's Meals on Wheels Program twice a month. View the interview.