ALICE Awareness Week: October 18-30
As millions of households across Virginia continue to struggle to maintain financial stability in the face of the ongoing COVID-19 pandemic, United Way of Greater Richmond & Petersburg is bringing attention to the thousands of families in our area who are unable to afford the basics for survival, despite working.  
Join us from October 18-30 as we raise awareness of the financially vulnerable households in our area during ALICE Awareness Week. 
ALICE (Asset Limited, Income Constrained, Employed) is a new way of defining and understanding the struggles of households that earn above the Federal Poverty Level, but not enough to afford a bare-bones household budget. 
ALICE is your child care worker, the cashier at your supermarket, the gas attendant, the salesperson at your big box store, your restaurant server, a home health aide, an office clerk. ALICE cannot always pay the bills, has little or nothing in savings, and is forced to make tough choices such as deciding between quality child care or paying the rent. One unexpected car repair or medical bill can push these financially strapped families over the edge.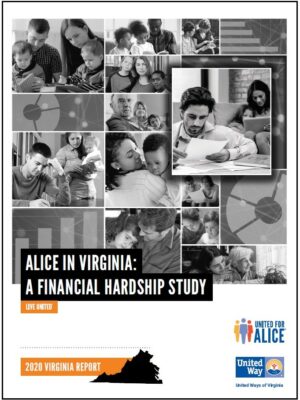 Want to help raise awareness of ALICE? Here's how you can help: