United Way's Funding Impact: January-June 2020
United Way of Greater Richmond & Petersburg has compiled the data from six months of funding that began in January 2020. Agency partners are required to share progress updates with United Way every six months, giving us better insight into how funds are being used to help members of our community.
From January 1 through June 30, 2020, United Way's funding empowered local nonprofits to help 45,881 people in our area.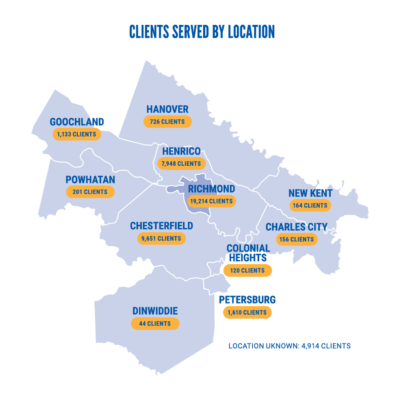 See the breakdown
In 2019, United Way of Greater Richmond & Petersburg announced $8.7 million in community investments for 2020-2022, a total of 74 awards to 54 agencies that deliver critical funding in nine program categories including everything from support for families of newborns to ensuring older adults are healthy and connected. This funding will be distributed through December 2022. 
Funding decisions are made by United Way's Community Impact Council. Learn more about United Way's funding process here.