Holiday Volunteer Opportunities
The holiday season is often a time for thinking about others, and one of the greatest gifts you can give this year is your time. Across our region, our partner organizations are working hard to help our communities enjoy happy and healthy holidays with their loved ones. Please consider donating your time and expertise to support their work.
Below is a list of volunteer opportunities that are open to the public.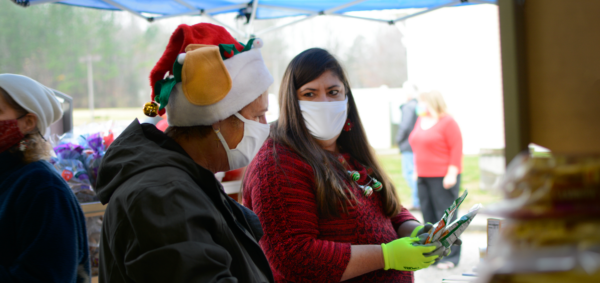 Upcoming Opportunities
Join the YWCA in sharing joy, belonging, warmth and love this winter by signing up to volunteer for Support-A-Family, their holiday gifting program! They are looking for volunteers to help greet givers and receivers for drop-off and pick-up at the YWCA building downtown. Opportunities are available from December 5-9 and December 12-16.
You can sign up at this link or email Sam Burns for more information: sburns@ywcarichmond.org

---
Wrapping Party | Jewish Family Services – December 14, 4:00-6:30 p.m.
Jewish Family Services (JFS) will be hosting a wrapping Party at their office on December 14, 4:00-6:30 p.m. If interested in participating, please contact Teresa Baldwin at 804-349-0742 or tbaldwin@jfsrichmond.org




Ongoing Opportunities
Holiday Meal Kit Drive | Housing Families First
Housing Families First (HFF) is inviting you to participate in their holiday meal kit drive! Help provide their community clients with special holiday meals they can prepare at home. Details are listed here. Thanks in advance for spreading holiday joy to families in HFF programs!
---
Evening Supper Program | Housing Families First
Housing Families First's (HFF) evening supper program welcomes volunteers into their shelter! Sign up here to bring dinner to the families in their shelter program. At this time, HFF is gratefully accepting both drop-off dinners and stay-and-serve dinners.
---
Housewarming Gift Cards | Housing Families First
Donate gift cards to Housing Families First (HFF) for families moving to permanent housing!
Gift cards can be mailed to the shelter or emailed to Julie@housingfamiliesfirst.org.
Amazon, Target, Walmart and Visa gift cards are helpful with moving expenses.
Grocery store gift cards are helpful to stock fridges and pantries.
Gas gift cards are helpful for transportation support for rental viewings, application submissions and employment.
---
Legendary Santa Fawn Shop | Children's Museum of Richmond
Come volunteer in the Children's Museum of Richmond's Fawn Shop! Volunteers will supervise children as they shop for gifts for their family members. Each child will enter a set amount of "fawn bucks" with which they can purchase items in the Fawn Shop. Volunteers will help them pick out gifts. This is part of our Legendary Santa program for the holiday season!
Volunteers are required to attend a virtual 10-minute orientation and, if over 18, pass a background check. Click here to learn more and register for a shift!
If you have any questions, please contact Allie Meagher, Volunteer & Communications Manager at the Children's Museum of Richmond: ameagher@cmorva.org or 804-474-7022