Kindergarten Countdown Camp to Expand, Return to In-Person Format for 2021
After shifting to a virtual format in 2020, United Way of Greater Richmond & Petersburg's Kindergarten Countdown Camp is preparing to return to in-person instruction in 2021. The program is also planning to expand to seven sites in the region following a successful 2019 pilot camp at Southside Elementary School in Dinwiddie. 

United Way is planning to hold Kindergarten Countdown Camps in classrooms across Dinwiddie, Goochland and Powhatan in 2021. These camps will help nearly 100 young learners and their families prepare for kindergarten next fall.   
All 2021 Kindergarten Countdown Camps will take place in June and July and will adhere to the school system's safety policies and precautions. Camp locations include: 
Date: July 6-29
Location(s): Midway Elementary, Sunnyside Elementary, Dinwiddie Elementary and Sutherland Elementary
Number of Classes: 4
Date: June 28 – July 29
Location: Goochland Elementary
Number of Classes: 2
Date(s): June 21 – July 1, July 12-22
Location: Powhatan Elementary
Number of classes: 1
What is Kindergarten Countdown Camp?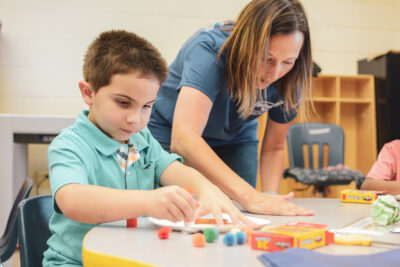 United Way's Kindergarten Countdown Camp is a free summer learning program for rising kindergarten students with limited or no preschool experience. Taught by licensed teachers, Kindergarten Countdown Camp prepares students and their parents for a successful start in kindergarten. While at Camp, students receive breakfast and lunch, a new book each week, and a backpack full of school supplies. 
Students that begin kindergarten without the necessary skills will struggle to hit crucial milestones, including reading by third grade and graduating high school on time. United Way's Kindergarten Countdown Camp prepares young students to meet these benchmarks by making sure they start kindergarten ready to learn and succeed. 
The process for selecting Kindergarten Countdown Camp participants will vary by school. Districts will use Kindergarten Registration Day Data to inform participant selection.
You can learn more about Kindergarten Countdown Camp and the impact it has had on young students in our region by clicking the button below. 
If you have immediate questions, contact:
Leanne Lytle
Director of Community Impact
lytlel@yourunitedway.org