United Way Kicks Off Another Year of Literacy Kits 
With a new school year swiftly approaching, United Way of Greater Richmond & Petersburg is kicking off  another year of Literacy Kit efforts.
Early learning resources are critical to ensuring children are prepared for kindergarten and reading at grade-level by third grade. You can help students reach these important Steps to Success with your support of United Way Literacy Kits. Here's how: 
Host a Literacy Kit Drive
Bring together friends, neighbors or colleagues to raise supplies and books and assemble them into United Way Literacy Kits. Our toolkit makes it easy to plan your drive, garner support, communicate the need and increase the impact of your efforts. Click here for ideas and tools to help get you started.
Become a Literacy Kit Leader
Literacy Kit Leaders make a significant contribution to this effort year after year. Any group donating 100 completed kits or $1,000 will be recognized as a Literacy Kit Leader in our digital and print communications around this effort. Learn more about being recognized as a Literacy Kit Leader.
Donate Completed Kits
Contributing United Way Literacy Kits is fun, easy and can be done individually from home or as part of a group. Use our supply list to collect and assemble the necessary items. Once you're done with your completed kits, schedule a drop-off with United Way by emailing volunteer@yourunitedway.org.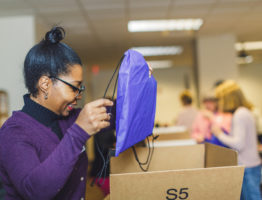 Volunteer With Us
United Way Literacy Kits are a year-round effort. We're always recruiting volunteers to help with upcoming phases. Keep an eye on this page for announcements or email volunteer@yourunitedway.org to learn more.
Spread the Word
Help us spread the word about the Literacy Kit Kickoff by staying connected with us on Facebook, Twitter, Instagram and LinkedIn. We're always welcoming new volunteers to our growing network – you can help us spread the word about this special opportunity by sharing updates with your friends. 
---
For more information about United Way Literacy Kits, contact: 
Emily Watkins 
Senior Director of Strategic Engagement
(804) 771-5835
watkinse@yourunitedway.org