United Way Partners with inSourceRx to Provide Prescription Savings
Richmond, VA (June 29, 2021) – Today, United Way of Greater Richmond & Petersburg announced its partnership with inSourceRx. inSourceRx prescription drug discount cards are available to everyone in the community, regardless of insurance coverage status. There are no usage, age or income limits. Using this card at the pharmacy will provide community members with up to an 80% discount on their prescription drugs.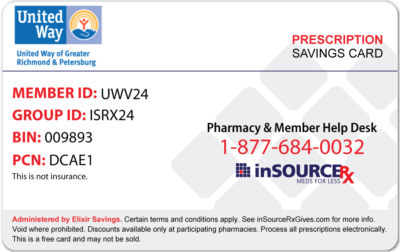 In the Greater Richmond and Petersburg region, 81,007 adults are currently without health insurance. This includes 3,111 children under the age of six. This partnership will help United Way as it continues its work to increase access to health care and ensure all residents can get the medicine they need at a price they can afford. 
There are a variety of ways for community members to access this discount. You can get an inSourceRx card by printing it at home, via text message, via email or by mail. Once you have received your card, you can simply enter your city, state or zip to find pharmacies near you who honor the inSourceRx prescription savings card. 
United Way knows that access to health care coverage is one of the top concerns for people in our region. Financial hardship and unexpected obstacles can leave people in our region forced to choose between getting the medicine they need and covering basic expenses like food, rent and utilities. Our goal in partnering with inSourceRx is to take away these difficult decisions and help make health care accessible to everyone in the region. Find out more about our partnership with inSourceRx here.