United Way Announces WomenRise Scholarship Recipients
Six Single Mothers Received Funding, a Total Investment of $65,000 from the Nonprofit
RICHMOND, Va. (Aug 23, 2021) – United Way of Greater Richmond & Petersburg today announced the recipients of its inaugural WomenRise scholarship program, which empowers single mothers to work toward a post-secondary degree or credential without the burden of childcare expenses. In United Way's local service area, the poverty rate for single mother families is 29.7 percent compared to 12.2 percent for single father families and 3.7 percent for married couple families.
Six local single mothers received a total of $65,000 in childcare scholarships from United Way of Greater Richmond & Petersburg. The scholarships will cover the cost of childcare while the moms work toward a range of degrees and certifications including elementary and kindergarten education and nursing. The length of the scholarships varies depending on the recipients' individual education plans.
"The cost of childcare is a massive expense for any family – particularly single mothers, many of whom are forced to choose between paying for childcare and furthering their education in pursuit of a reliable living wage," said James L.M. Taylor, President & CEO of United Way of Greater Richmond & Petersburg. "We are proud to support this inspirational group of women as they work toward a higher degree of success for themselves and their families."
The six recipients who received the WomenRise scholarship are:
Sheryl Harvey

Harvey has been working as a certified nursing assistant since 11th grade, and recently won Care Partner of the Year on her floor at Virginia Commonwealth University. As a mother of two young children, Harvey has been working to take the classes required to become a registered nurse. She plans to use her WomenRise scholarship to cover the cost of child care while completing a nursing program at J. Sargeant Reynolds Community College.
---
E'moni Johnson

Johnson currently works at a daycare facility in Richmond and is pursuing her bachelor's degree in Elementary and Kindergarten Education at Virginia Commonwealth University, with plans to graduate in 2023. She will use her WomenRise scholarship to support childcare for her three-year-old daughter while she completes her education.
---
Jasmine Phanelson

Phanelson is working to become a licensed practical nurse (LPN), with a long-term goal of becoming a registered nurse that works with underserved communities. She will be attending Bryant and Stratton College in Richmond this fall as she works towards her credential as an LPN. A single mother with a seven-year-old son, Phanelson is determined to succeed in her educational journey.
---
Titilayo Sampson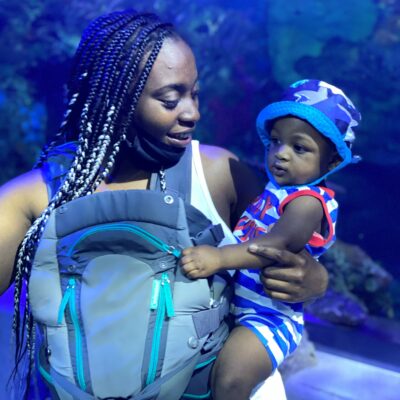 Sampson was pursuing a degree in hospitality and tourism management, but left during her junior year. After her son was born in 2020, Sampson realized she needed to return to school and complete her degree to provide a better future for her family. She plans to continue at Norfolk State University this fall with the goal of earning a bachelor's degree in 2022.
---
Kaytie Whyte

Whyte is a mother of three kids. After working her way out of an abusive relationship, she found herself with limited career options, so she turned to her family for help and inspiration. Whyte enrolled in a two-year nursing program at John Tyler Community College and is working toward her associate's degree in nursing.
Of receiving the scholarship, Whyte said, "This scholarship will provide opportunities for me, but it will also offer relief and flexibility for my aging parents, who have both been sacrificing and working hard to provide care for me and my children."
---
Kristen Williamson

Williamson's father was a firefighter, and her mother was a nurse, which instilled her with a lifelong passion for helping others. She has completed various certifications and worked in multiple health care positions, but a series of setbacks has made it difficult to complete her educational journey. With two children to care for, Williamson is more committed than ever to completing the coursework necessary to earn her associate's degree in nursing at John Tyler Community College.
---
Help us Help More Moms in 2022!
United Way of Greater Richmond & Petersburg is currently seeking financial support from local donors and organizations who want to help grow this program and support more single mothers in 2022. The upcoming fundraising phase will be critical in determining the number of WomenRise scholarship recipients and the amount of each scholarship. United Way invites anyone interested in supporting the program to visit www.yourunitedway.org/donate-now/ or email Samantha McCabe (mccabes@yourunitedway.org) today.