School-Based Health Care: Improving Health Outcomes, Advancing Student Success
Research shows that health is a critical factor in students attending school every day, engaging meaningfully and thriving in school and in life. Poor health creates a greater risk of students not being ready for kindergarten, not reading at grade-level by third or not graduating high school on time, leaving them without certain credentials and skills necessary to participate in today's workforce.
That's why United Way is working with local organizations through the Petersburg City and Schools Partnership to open a school-based health center at Petersburg High School.
What is a School-Based Health Center?
A school-based health center (SBHC) is a shared commitment between a community's schools and healthcare organizations to support students' health, well-being and academic success by providing preventative, early intervention, and treatment services where students are: in school. (School-Based Health Alliance)
According to the School-Based Health Alliance, SBHCs provide immediate help for students with acute and chronic conditions. They are uniquely positioned to address a full range of health determinants through integration of preventative care. SBHCs can serve as a resource for group and classroom health education, school-wide screenings and prevention programs, and support other school staff in creating a positive school climate.
Positive outcomes include:
Students stay in school and learn to advocate for their own health;
Schools have higher academic expectations, increased attendance and GPAs,
Students are more engaged and enjoy an enhanced school climate; and
Communities are healthier with decreased inappropriate emergency room use and hospitalizations.
Interested in learning more about SBHCs? Visit the School-Based Health Alliance website.
But what about the school nurse?
The nurse continues to manage the students population's health. School-based health care complements the nurse's work by providing an accessible referral site for students who are without a medical home or in need of more comprehensive services. The SBHC will provide the school nurse with instant access to a healthcare provider who can immediately address students' acute healthcare issues.
Where are we now?
Led by the Student Health and Well-Being Work Group, partners have spent the past year learning about SBHCs, analyzing need and evaluating our capacity to open and sustain a center.
With the generous support of The Cameron Foundation and Virginia Premier Health Plan, the work group is now in a technical assistance phase with the School-Based Health Alliance.
Current focus areas include:
Completing a readiness assessment
Preparing a business narrative and social marketing plan
Ensuring that when opened, the health center will be successful and sustainable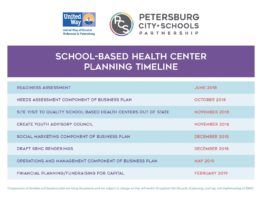 By providing access to care in the location where students spend most of their time (school), the work group aims to create the conditions for students to thrive in school and in life.
Check out our SBHC Timeline to learn more about the steps in our next year of planning.
How You Can Help
Donate to United Way to support our work in this area. Click here to make a donation.
Become an advocate for school-based health care. Share information about the importance of equitable access to healthcare and make sure all of your friends and colleagues have the same understanding as you. Looking for key messages to share? Check out the School-Based Health Alliance's page on advocacy.
School-Based Health Centers in the News