United Way's Kindergarten Countdown Camp is a free summer learning program for rising kindergarten students with limited to no preschool experience.

Our virtual Kindergarten Countdown Camp ran from July 6 – August 7, 2020 and included the same elements that made our 2019 pilot camp so successful. From weekly workshops with parents to new books and supplies for students, this program helped more young children prepare for the school year ahead — something that is particularly important during this period of uncertainty.
---
"For parents who have no idea what Kindergarten will entail, this is a WONDERFUL resource for them to start preparing their child."
– Kindergarten Countdown Camp parent 
---
We increased the length.
The 2020 virtual Kindergarten Countdown Camp offered 5 weeks of instruction, compared to 3 weeks in 2019.
We increased access and participation.
We saw a 200% increase in the number of students and families participating in our 2020 Kindergarten Countdown Camp.
The 2020 Kindergarten Countdown Camp was available to any interested family, whereas our 2019 pilot was available to students with little to no preschool experience.
The virtual format opened the program up to families across our service area, as opposed to a limited number of localities.
We engaged families.
The 2020 Kindergarten Countdown Camp had bi-weekly calls throughout the program to check-in on parent and student progress.
While in-person classroom experience is a critical component of kindergarten readiness, the virtual format offered some unique benefits: 
We sent daily emails to families that supported development in cognition, social-emotional learning and language.

 

We offered 

weekly 

live 

Zoom office hours

 to an

swer questions from families.

 

We recorded each instructional session and added them to our website so that families who were not registered were still able to take advantage of the program.

 
Our virtual Kindergarten Countdown Camp achieved across-the-board buy-in and participation from families. 100% of responding families used our content at least one time per week.
---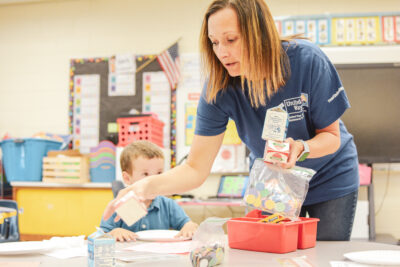 "Like most things in 2020, Kindergarten Countdown Camp looked a lot different this year. However, I think the program's impact and importance for families was the same, if not greater in this uncertain time. We worked hard to help each student experience noticeable improvements in both academic and social emotional skills. The school year ahead promises to be unlike any other, but I am confident this group has the tools they need to have a successful first year of school."
– Mrs. Tia Wilson, Kindergarten Teacher at Sutherland Elementary
---

To learn more about United Way's Kindergarten Countdown Camp, go

here

.