Kindergarten Readiness
In order to be kindergarten-ready, young children need quality early education, strong relationships with families, a safe and secure home environment and regular health and developmental screenings and support.
Today, we know without a doubt that quality early childhood education leads to more success in kindergarten and throughout life. For low-income children, early childhood education is one of the keys to upward mobility. It also leads to a stronger economy for all of us.
This work does not just involve preschools – success requires strong families, safe homes and timely screenings to ensure kids are meeting their developmental milestones.
What We Do
United Way of Greater Richmond & Petersburg understands the importance of school readiness, as well as the holistic approach required to truly prepare our young children for kindergarten. That's why we invest in programs that focus on family stability, early literacy, and social and emotional development.
Success Stories
We are a community of people in need, and we are all working to make this a stronger region. We invite you to meet the people, families and organizations that have been positively impacted by United Way.
Prepared for Possibilities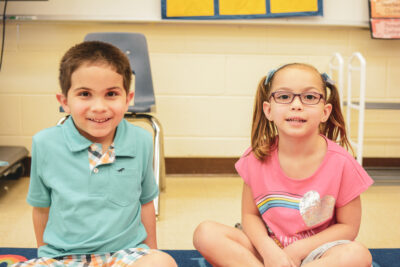 Most parents of young children understand the importance of early education. Not many have a clear plan for how to pay for tuition, which often costs 1,000 a month or more. Bonnie found herself in that exact situation when her twins, Lilli and Leo, were born in 2014. Then she learned that United Way was launching a Kindergarten Countdown Camp in her area. Read her story.
Insights & Spotlights
United Way staff members are available to provide valuable insight and knowledge on each of our Steps to Success. We invite you to hear from these experts within our organization and learn more about Kindergarten Readiness.