The Importance of "Born Healthy"
Parents, do you remember how it felt to hold your baby for the first time? Can you recall the excitement of pregnancy and the exhaustion of the first few months with an infant?
For those who haven't experienced this, maybe you've been present as friends or relatives go through pregnancy and childbirth. You've probably talked to co-workers about the doctors' appointments, food cravings, and nursery preparation. Once the baby arrives, maybe you've heard about the sleepless nights, the joy and, sometimes, the depression and anxiety new parents may feel.
Regardless of your experience with pregnancy and birth, you can probably agree with this statement: It is good for babies to be born healthy.
As it turns out, healthy pregnancies and births are not just important to families, but to our whole community.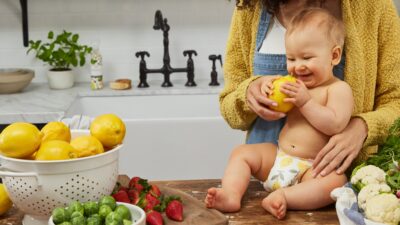 Healthy Births = Healthy Communities. Here's why:
I won't bore you with all the data, but there is a lot of research that bears out the following:
The list keeps going. Adults who are employed are more stable financially, more likely to receive appropriate health care and more likely to have the resources needed to raise healthy children themselves. Financially stable and healthy adults can eventually support their own aging parents.
(By the way, this sort of life-cycle thinking is something we're all about here at United Way. We call it our Steps to Success. Check it out here, and learn more about our ideas for what people need to be successful in life.)
OK, back to babies. There are plenty of other reasons why it's good for babies to be born healthy—reasons that have to do with long-term outcomes and money. For example, complicated pregnancies and premature babies require more medical care. Care and support for infants and toddlers with special needs have to be provided for free by the government. The costs continue to add up once a child goes to school, where public schools spend more to remediate students who fall behind. You get the idea, right?
Making sure babies are born healthy means fewer costs for all of us as taxpayers. It's much less expensive to provide mothers with early prenatal care, for example, than it is to provide services to a baby born with special needs.
Healthy Births in our Community: By the Numbers
The good news? Currently, about 90% of mothers in our community receive early prenatal care (this is one indicator of a healthy pregnancy) and about 91% of babies are born at more than 5.5 pounds (this is an indicator of a healthy baby). Also, the teen pregnancy rate among 10-17 year olds locally has declined significantly over the last 15 years, from 16.3 births per 1,000 females ages 10-17 to just 4.5 births per 1,000 females today!
Unfortunately, there is some not-so-good news, too. The parts of our community where a lot of people are living in poverty have worse rates of prenatal care and low birth weight. For example:
Early Prenatal Care (before 13 weeks)
Low-Birth Weights (below 5.5 pounds)
Births to Mothers with Less than a 12th Grade Education
By no means are these early indicators a prediction of lifelong success. It is certainly possible for babies born below healthy birth weight, to young mothers or those with less education to thrive. But there may be more barriers on the path to success for these children. However, there are also opportunities to support families and children to ensure they have the resilience to overcome these obstacles.
Families are resilient in the face of challenges. United Way is here to help.
Parents and their children in our community may face challenges and also have incredible resilience, as evidenced by the countless success stories shared by United Way partners over the years.
We want to understand the barriers families face, address the systemic challenges in their way and provide resources to empower them to make sure their children are born healthy.
That's why we do a lot of research and recently released a HUGE report full of data on how our community is doing. We use that research to drive our funding decisions.
Every year, we invest more than $300,000 into local home visiting programs such as Family Lifeline and Quin Rivers. Home visitors connect mothers and infants with medical services, teach families about child development, and can assess infants for any delays. These parent support programs are especially important in rural areas like New Kent County, where there are fewer doctors.
United Way works to expand home visiting services regionally by supporting the advocacy efforts of Smart Beginnings Greater Richmond, the regional coalition of public and private organizations, businesses and citizens focused on early childhood.
We also empower people in our network (like you!) through messages like this one (from me!) so you can help spread the word about why it's important for babies to be born healthy, and what we can do to make sure that happens.
Speaking of which, here are some things you can do about this important issue:
It may seem like helping mothers and babies is beyond the reach of what most of us can do. But there are everyday opportunities to educate yourself, educate others and share your resources by giving or volunteering. When you give to United Way's Born Healthy work, you support programs working directly with families most in need and also address systemic barriers such as policy, inequitable resources, access and quality of services available to those most in need.
It is good for babies to be born healthy. It's good for our families, communities, taxpayers and schools. This January, as we start a new year, I invite you to reflect on how fortunate many of us are to have adequate health care, and to have healthy children, and stable families. In 2018, what might you do to support mothers and babies? How will you help build a clear path to success for everyone?
Author Credit: Rebekah Holbrook