Middle School Engagement: What it is & Why it Matters, Part I
How about a bit of time travel? Close your eyes for a moment, please. Imagine yourself in your middle school hallway, in front of your locker.
The bell just rang, signaling that you need to be at your desk, in class, in three minutes. You're shuffling through papers, books, and stinky gym clothes in your backpack, frantically looking for the homework due in the next period. It's noisy — students are talking loudly, lockers are closing, teachers are directing traffic.
You glance around for your friend from band who always walks to class with you. She's not there today. This means you'll be alone on the long trek to the science classroom at the other end of the school, past the group of 8th graders who hang out next to the bathroom. The faint smell of school lunch reaches you, and you remember you're supposed to help make dinner for the family tonight. Meatloaf again. You've told your mom a million times you don't eat anything with a face. No one listens. Are you invisible or something?!
Open your eyes. 
Deep breath.
You're back to reality!
What did that experience of remembering middle school feel like?
What did you see, taste, touch, and smell?
No middle school experience is the same. Some of us did well academically, met new challenges through extracurricular activities, and enjoyed social events with friends and greater independence from our families. Some of us experienced uncertainty, awkward physical change, and/or a disconnection from learning and school. Some of us felt socially isolated, had identity crises, experienced academic failure, or took unhealthy risks.
Today, middle school experiences are just as varied as ours were. But they are different in important ways, too. Technology and social media both amplify and complicate social interactions. Demographic shifts and population growth have made some schools more diverse and others more segregated by race and income. Under a system of standardized testing, learning is higher-stakes and often less personalized to meet each student's needs. Life is undoubtedly complex for adolescents today. The good news is that regardless of whether you were in middle school in 1978 or 2018, the foundations of positive youth development, which leads to engagement in school, remain largely the same.
The Key to Middle School Engagement? Positive Youth Development
There are behaviors, experiences and relationships that can actually stop bad stuff from happening and are key for young people to grow up healthy. We call these positive assets for Positive Youth Development (PYD). Check out the list of positive assets below. Were any of these assets present for you when you were in middle school? If so, they probably contributed to your survival success. 🙂
Basic needs met (food, safety and housing) and physical and emotional safety.
Physical, emotional, and mental health (and appropriate intervention when needed).
Positive attitudes toward school and skills to help overcome challenges.
Strong academic foundation in elementary school and regular school attendance.
Good relationships with peers and caring adults such as caregivers, teachers, coaches, or mentors.
Engagement in groups and activities in which you felt a sense of belonging and empowerment.
At United Way of Greater Richmond & Petersburg, we want all young people to experience healthy development and overall well-being. Positive Youth Development is based on the belief that young people have many assets already; our job as adults is to help them build upon those assets. PYD focuses on strengths and protective factors rather than just on deficits or risks.
A graphic might help!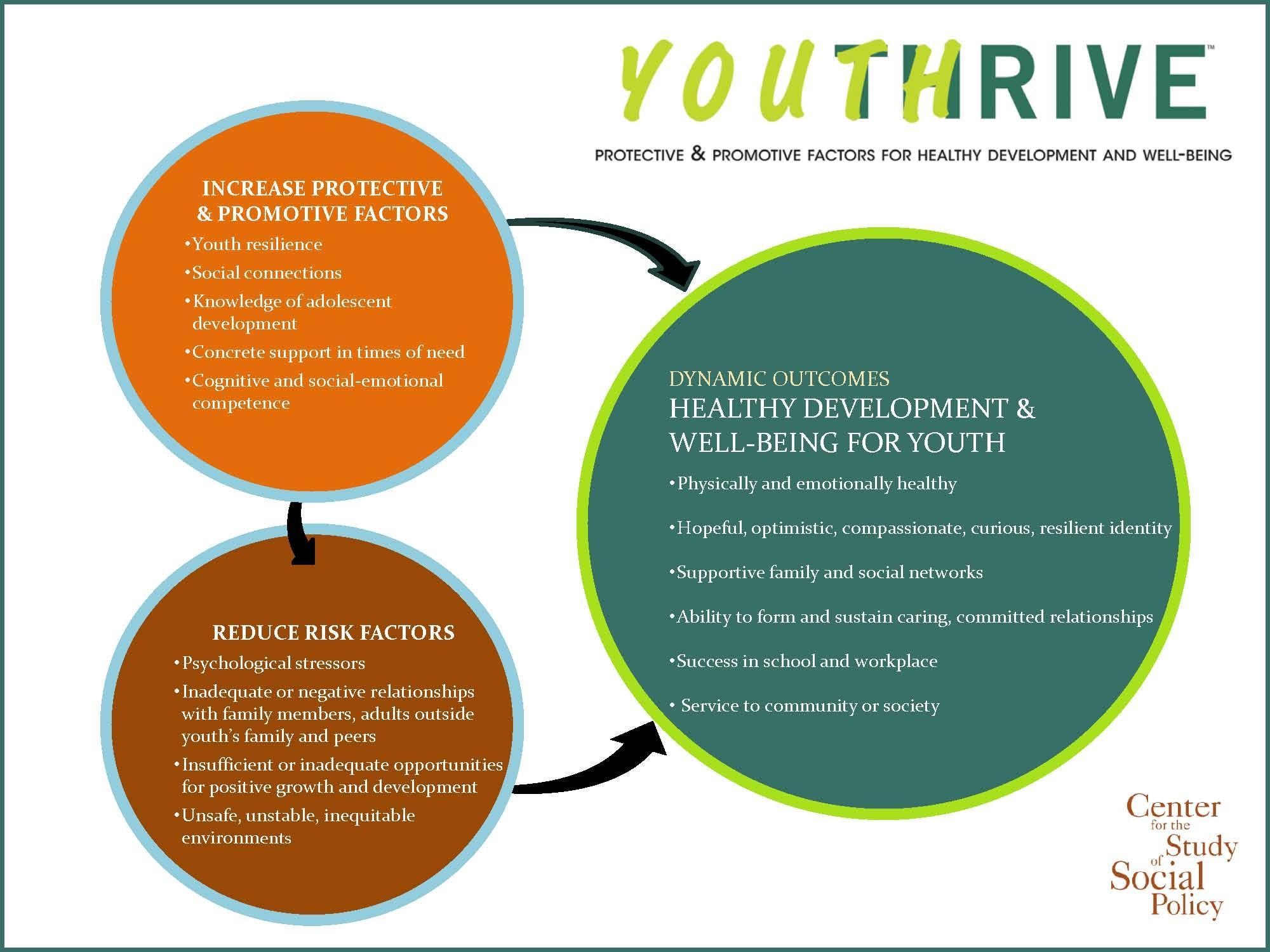 Positive Youth Development also considers the young persons within the context in which they live. It considers the influence of family, peers, school, community, etc. on youth development. The idea is that we have invested in children and young adults' healthy development and well-being so they can contribute back to the systems which helped them develop.
Cha-cha-cha-cha-CHANGE
Middle school is a time of incredible physical change, cognitive development, and identity formation, as you may have experienced! In middle school, engagement is particularly important because adolescents who don't have as many of the positive assets listed above may struggle socially and emotionally during this transitional time and can fall behind academically.
The good news is that there is a lot of research (backed up by practice) about the positive assets and protective factors that help young people thrive.
Keep Reading:
Part II of our series dives deep into the data on how middle schoolers in our region are doing.
Click here to check it out!
How YOU Can Help Middle Schoolers Thrive
Give
In the middle school space, on an annual basis, United Way invests more than $600,000 in programs serving middle school students across the Greater Richmond & Petersburg region. These include Higher Achievement and Communities in Schools of Chesterfield at Falling Creek, two programs focused exclusively on middle school students.We also invest in programs serving children and youth in all grades, including middle school: Big Brothers Big Sisters, Boys & Girls Clubs, YMCA, Peter Paul Development Center, Art180, Side By Side, Salvation Army Boys & Girls Club, and Communities in Schools of Richmond.
Click here to make a gift to United Way of Greater Richmond & Petersburg today. Use the "Investment Options" tool to let us know you want your gift to support our work in the Middle School Engagement Step.
Volunteer
Volunteering with adolescents is not for everyone, though there are some of you who do really enjoy working with teens! If that's YOU, email volunteer@yourunitedway.org and let us know you'd like to volunteer through United Way with middle schoolers! We can also recommend several opportunities with our partner agencies to get more involved in mentoring, tutoring and supporting middle schoolers.
Advocate
Most importantly, we encourage you become an advocate for adolescents. Click through some of the links in this article and educate yourself about the unique needs of adolescents and what they need to develop into healthy young adults. Learn all you can about this unique period of cognitive, social, and emotional development. Pay attention to the cues young people are giving you. Take time to genuinely listen and authentically engage. Create opportunities for them to express their voice, and make meaningful choices.
How different would your middle school experience have been if every adult you interacted with understood what you needed, knew how to communicate with you, and actively engaged you and helped you thrive?
Close your eyes and imagine that.
Author Credit: Rebekah Holbrook