Middle School Engagement: What it is & Why it Matters, Part II
Thanks for reading Part II of our series on Middle School Engagement!
This time around, we're going to dig deeper into data on how middle schoolers in our region are doing, and hear from the director of NextUp, a coordinated system of after-school programs designed to promote engagement and improve academics for middle school students in the City of Richmond.
How Do We Know?
To measure engagement, United Way collects regional data on school attendance, behavior and course performance to tell us how middle school students are doing. When available, we also look at data on students' emotional well-being. We call these the ABC's + E.
(If you can't tell, we're data geeks here at United Way! We recently published a huge report with data on our region. Check it out here, and while you're at it, check our our Steps to Success framework to learn more about how each of our focus areas at United Way is supported by research.)
Now, back to the ABC's + E.
The ABC's + E for Middle Schoolers
A is for Attendance

Students who miss more than 15 days of school are considered chronically absent.
Among middle school students in our region, 8.1% of students were chronically absent in the 2015-2016 school year. That's 3,348 students who missed at least 15 days of school!
Students who are identified as economically disadvantaged are more likely to miss school. In the 2015-2016 school year 15.5% of economically disadvantaged students in grades PreK-12 in our region were chronically absent compared to just 4.7% of non-economically disadvantaged students.
B is for Behavior
Regionally, 4,733 (12%) of middle school students were suspended or expelled in the 2015-2016 school year. For the two school years prior, the percent was about the same.
Dinwiddie, Petersburg and Richmond are outliers, with suspension and expulsion rates higher than the 12% regional average. Actually, in Richmond, 38.1% of middle school students were suspended or expelled in the 2015-2016 school year.
In Virginia, students of color are more likely to be suspended or expelled. In 2015-2016, students of color comprised just 23% of the K-12 student population yet accounted for 57% of the short- and long-term suspensions and 43% of the expulsions.
In comparison, White students made up 51% of the population but accounted for only 28% of short-term and 29% of long-term suspensions and 43% of expulsions in Virginia.
C is for Course Performance
Middle School course performance is a better indicator of success in high school than performance on standardized tests. However, data on individual student or school course performance is not available publicly. Instead, United Way uses SOL Exam pass rates as a proxy for course performance. Generally, school districts in localities where poverty is higher have lower pass rates on the Standards of Learning Exams.

8th Grade Reading SOL Scores
Regionally, 73% of eighth grade students passed the reading SOL in 2017.
Across all districts in our region, students who are economically disadvantaged pass the 8th grade reading SOL at lower rates.
Additionally, Hispanic and Black students pass the 8th grade reading SOL at lower rates than White Students.
Why look at these numbers by economics and race?

In our region, a larger percentage of Black and Hispanic students are living below federal poverty levels, in low-resource communities, attending failing schools and experiencing food insecurity, health issues and trauma at higher rates.
Looking at the numbers this way allows us to zoom in on the disparities and target our resources more carefully. In doing so we can progress at pace, and to make corrections where there is not progress. United Way is committed to educational success for all students regardless of their identity, where they grew up or their family's income level.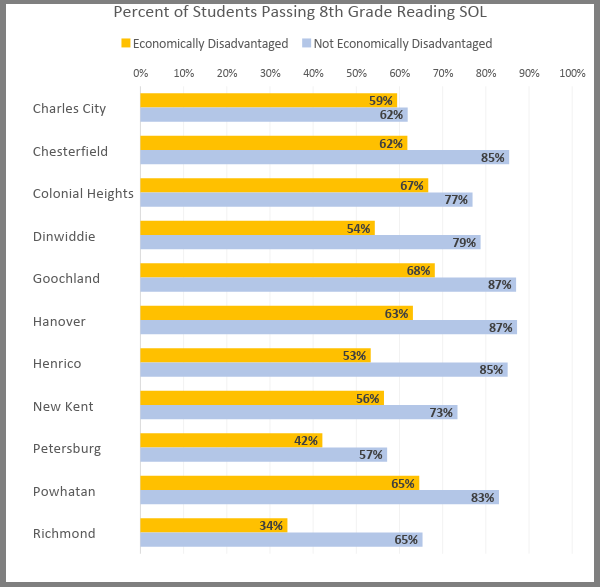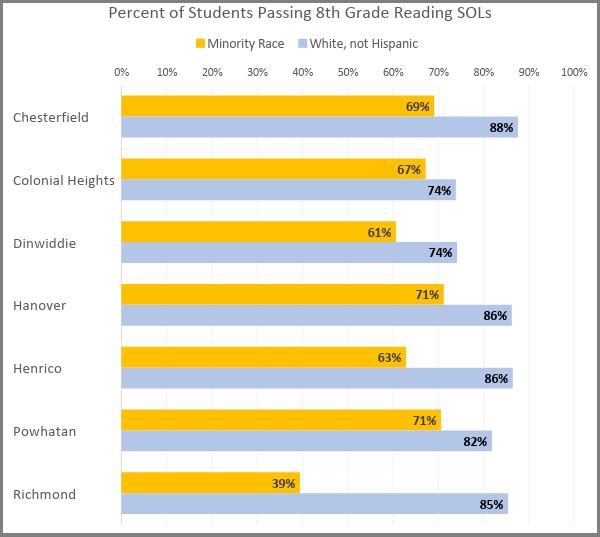 8th Grade Math SOL Scores
In Virginia, schools lose accreditation if fewer than 70% of students pass the Standards of Learning.
In nearly all districts in our region fewer than 70% of all 8th grade students passed the 8th grade math SOLs in 2017.
Bright spots! Interestingly, economically disadvantaged students in Dinwiddie and Colonial Heights passed the SOLs at slightly higher rates than non-economically disadvantaged students. We call this a bright spot, and it leads us to ask more questions about the data and whether there are strategies that are successful in those districts which could be shared with other schools around the region.
Another bright spot shows up in the pass rates for Hispanic students. In many districts, Hispanic students are passing at rates not far behind White students. Again, looking into this data further could help us understand how schools and districts are successfully closing the achievement gap for minority students.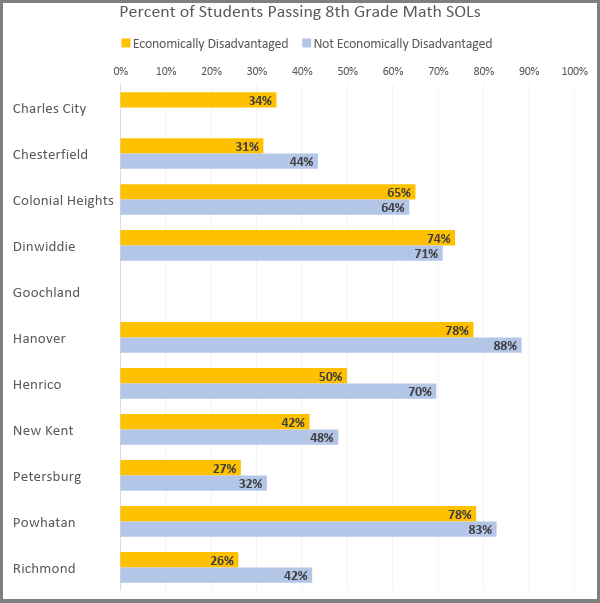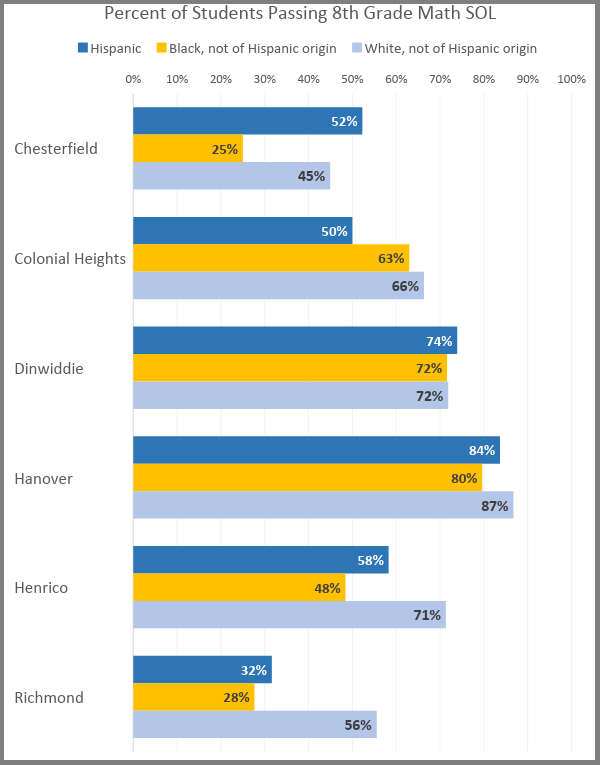 E is for Emotional Well-being
Regionally, there is limited data on the emotional well-being of young people.
We don't know exactly how many young people have positive relationships with caring adults. We do know that there are an estimated 370 mentoring programs serving about 6,300 youth in formal, structured, mentoring relationships in the United Way of Greater Richmond & Petersburg service area.
Additionally, there are more than 100 out-of-school time and summer programs in the region that provide thousands of hours of extended learning, enrichment, physical activity and community building to thousands of youth each year.
Whew! That was a lot of data.
Keep Reading:
How do programs and schools actually achieve results? And what are school districts with lower SOL pass rates doing to improve? For more information, we talked to a
local expert
for an inside view of a program designed to engage middle school students through after-school programming.
How YOU Can Help Middle Schoolers Thrive
Give
In the middle school space, on an annual basis, United Way invests more than $600,000 in programs serving middle school students across the Greater Richmond & Petersburg region. These include Higher Achievement and Communities in Schools of Chesterfield at Falling Creek, two programs focused exclusively on middle school students.We also invest in programs serving children and youth in all grades, including middle school: Big Brothers Big Sisters, Boys & Girls Clubs, YMCA, Peter Paul Development Center, Art180, Side By Side, Salvation Army Boys & Girls Club, and Communities in Schools of Richmond.
Click here to make a gift to United Way of Greater Richmond & Petersburg today. Use the "Investment Options" tool to let us know you want your gift to support our work in the Middle School Engagement Step.
Volunteer
Volunteering with adolescents is not for everyone, though there are some of you who do really enjoy working with teens! If that's YOU, email volunteer@yourunitedway.org and let us know you'd like to volunteer through United Way with middle schoolers! We can also recommend several opportunities with our partner agencies to get more involved in mentoring, tutoring and supporting middle schoolers.
Advocate
Most importantly, we encourage you become an advocate for adolescents. Make sure to read Part I of this article and educate yourself about the unique needs of adolescents and what they need to develop into healthy young adults. Learn all you can about this unique period of cognitive, social, and emotional development. Pay attention to the cues young people are giving you. Take time to genuinely listen and authentically engage. Create opportunities for them to express their voice, and make meaningful choices.
How different would your middle school experience have been if every adult you interacted with understood what you needed, knew how to communicate with you, and actively engaged you and helped you thrive?
Close your eyes and imagine that.
Author Credit: Rebekah Holbrook