Equity Data Series: Access to Care
When people do not have access to quality health care close to their home

,

they are more likely to struggle with health complications throughout their life. Close, convenient access to healthcare is important for families and individuals through all stages of life.
---
We used data regional care access data to identify inequities in our service area. Here's what we found: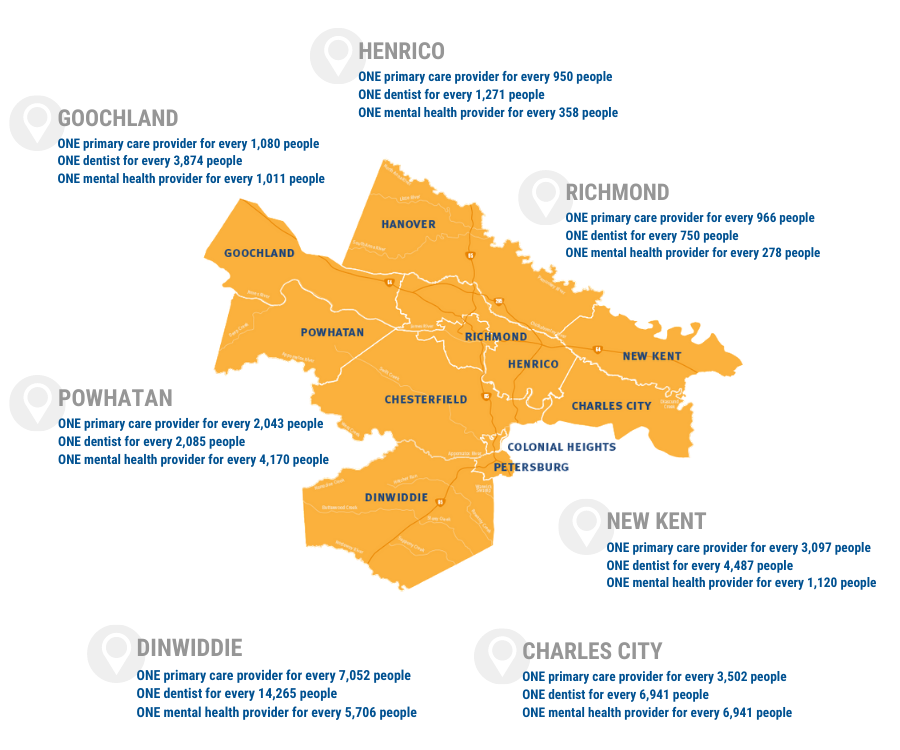 Access to primary care physicians, dentists, mental health professionals, hospitals and other specialists makes a difference for everyone in our community, particularly our most vulnerable neighbors. People who may not have access to transportation or are unable to take extended periods of time away from work or family may have difficulty accessing care. The challenges increase when medical professionals are far away from home. They may have to wait longer to secure appointments if physicians where they live are overwhelmed with patients. 
---
How United Way Helps
United Way of Greater Richmond & Petersburg currently funds 20 programs at 16 local nonprofits combatting barriers to equitable health care access. Our total 2020-22 investment in this area is $3,030,000.
This series has highlighted the stark lack of access to healthcare in our region's rural communities. GoochlandCares is the only organization in Goochland County that provides a safety net for those with immediate health, housing and food needs. Their Access to Healthcare program is part of GoochlandCares' twelve core programs that include medical, dental and mental health care. In 2019, GoochlandCares provided 3,714 medical, dental and mental health visits and their Medical Transportation program provided transportation to 951 medical appointments totaling 38,925 miles.  
As an essential service provider, GoochlandCares prioritized remaining open during the stay-at-home directive. Through modified program delivery, they transitioned to telehealth appointments and, when necessary, allowed curbside medical visits. This allowed staff to successfully treat their patients' minor and chronic illnesses to avoid complications and keep them out of hospital emergency rooms. Off-site emergency dental care was still accessible until onsite dental services were allowed to reopen in July. Staff also participated in weekly Community Citizen Task Force meetings with other major community partners to raise awareness of emerging community needs and facilitate collaboration to respond quickly to those needs.  
As GoochlandCares staff works to return to full capacity, they were able to identify permanent changes to the program that will increase capacity and improve program delivery. They now offer phone registration and will soon offer online program registration to avoid in-person contact. Virtual appointments will also remain as a part of the program as another option for medical appointments. 
Thrive Virginia's New Kent/Charles City Healthy Families Program is an intensive in-home visiting program for families that are at risk for child abuse or neglect in an area of the region that lacks access to health care and health care providers. Healthy Families is a strength-based program that provides support and helps families build strong, nurturing relationships with their children. Program focus areas include prenatal care compliance, connection to a care provider, well-baby visits, birth weight monitoring, immunization completion, developmental screenings and referrals and parent-child interaction. 
Due to the pandemic, home visits are provided virtually by video and over the phone, and resources needed by the family are mailed directly to them or sent by email. When in-person visits are required, staff practices social distancing and uses protective gear when applicable. Families also receive protective gear. Staff has increased parent contact as a result of the pandemic looking for additional family stressors. Finally, in addition to the Healthy Families Program, Thrive Virginia also provided additional support for emergency food assistance.
---
H
ow Can You Help? 
Donate to United Way of Greater Richmond & Petersburg today. Your donation helps us make equitable health a reality for our region. 
DONATE
---
More on Health Equity:
Other Equity Data Series Topics:
Education