United Way Literacy Kits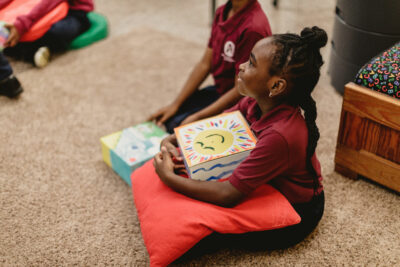 United Way is committed to helping young children in our region meet these crucial Steps to Success. Our year-round literacy kit efforts ensure students and families have access to resources to empower them around school readiness and literacy.
Throughout the year, United Way of Greater Richmond & Petersburg collects and assembles more than 1,500 literacy kits that are distributed to students in our region. Each kit includes schools supplies, an age-appropriate book and information for parents so students can be prepared for kindergarten and reading at grade-level by third grade.
Click here to download our Literacy Kit Overview document.
August 3, 2019 – Literacy Kit Kickoff – United Way volunteers collect school supplies for Literacy Kits on tax-free weekend at participating Walmart locations throughout the region.
August 2019 through April 2020 – Literacy Kit Drives – United Way volunteers coordinate Literacy Kit Drives with the help of United Way staff where they will collect books and/or school supplies to be assembled into Literacy Kits.
August 2019 through April 2020 – Literacy Kit Assembly – United Way coordinates and facilitates groups of volunteers who assemble more than 1,500 Literacy Kits for early elementary students.
Fall 2019 – Fall Distributions – Early elementary students at participating schools receive kits to inspire a love of reading, reward school attendance and promote year-round learning at home. Additional supplies received are donated to teachers across the region.
October 23, 2019 – Literacy Kit Drive Meet-Up – Ahead of holiday donation drives, interested volunteers join United Way to learn more about raising books and/or school supplies for Literacy Kits and advocating for school readiness and literacy at work, among family and friends or within their faith community.
December 7, 2019 – Story Time and Literacy Kit Decorating – United Way hosts a story of service – bringing young learners together to hear a story of a young person serving others and finding a sense of community – followed by fun and simple volunteer activities.
March 31, 2020 – Donation Deadline – Books, school supplies or completed kits are due to United Way by this date. This deadline allows a large number of donations to be assemble into kits and delivered to schools in time for Kindergarten Registration Day.
April 2, 2020 – Literacy Kit Assembly – Volunteers can come to United Way's office to finish assembling the kits and organize them to be delivered to schools.
April 14, 2020 – Literacy Kit Delivery – Volunteers load up their vehicles with assembled Literacy Kits and deliver them to schools across the region.
April 16, 2020 – Kindergarten Registration Day – At many schools in the 11 localities within United Way of Greater Richmond & Petersburg's service area, rising kindergartners and their families receive Literacy Kits while registering for kindergarten.
Spring 2020 – Spring Distributions – Students receive kits through the spring and leading into summer to give families tools to continue learning outside the classroom.
News & Updates
Fall 2019 – Support literacy during the holidays by leading a Literacy Kit Book Drive amongst your community group! We need new kindergarten books that will go inside United Way Literacy Kits with school supplies and family educational resources. Check out our Amazon Book Wish List or this list of books to donate to get started.
July 2019 – Volunteers are needed for our 2019 Literacy Kit Kickoff on Saturday, August 3. Learn more.
December 2018 – We need books! Visit the Amazon Wishlist or the list of books to donate to see the books we need for our literacy kits.