United Way Literacy Kits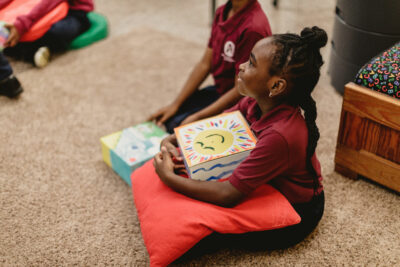 United Way is committed to helping young children in our region meet these crucial Steps to Success. Our year-round Literacy Kit efforts ensure students and families have access to resources that empower them around school readiness and literacy.
Throughout the year, United Way of Greater Richmond & Petersburg collects and assembles thousands of Literacy Kits that are distributed to students in our region. Each kit includes school supplies, an age-appropriate book and information for families so students can be prepared for kindergarten and reading at grade-level by third grade.
Download our Literacy Kit Overview document here.

What's included in a United Way Literacy Kit?
A new, age-appropriate book, school supplies and information to empower families around school readiness and literacy.
How many kits will United Way distribute?
United Way of Greater Richmond & Petersburg hopes to distribute more than 2,000 Literacy Kits to rising kindergartners and their families on Kindergarten Registration Day and throughout the year to early elementary students.
What's the deadline for turning in Literacy Kits?
The deadline for this year's Literacy Kit Drive is March 1, 2022. Contact volunteer@yourunitedway.org to schedule a donation drop-off.
August 2021
Literacy Kit Kick-Off – United Way begins another year of raising and distributing kits for young learners throughout our region.
Literacy Kit Drive Meet-Up – Volunteers join United Way virtually to learn more about raising supplies for Literacy Kits.
March 2022
March 1 – Donation Deadline – Completed Literacy Kits must be dropped off to United Way by March 1, 2022.
April 2022
Literacy Kit Delivery – Volunteers deliver Literacy Kits to schools around the region on Kindergarten Registration Day.
---
Ongoing
Literacy Kit Drives – Volunteers collect books and school supplies for their own drives, which are then assembled into Literacy Kits.
Literacy Kit Assembly – United Way coordinates and facilitates groups of volunteers on-site and off-site to assemble more than 2,000 Literacy Kits.
School Year Distributions – Early elementary students at schools throughout the region receive kits at various times throughout the year.