Petersburg City and Schools Partnership
On 
January 20
, 
leadership and management responsibility for the Petersburg City and Schools Partnership transition
ed 
to Petersburg City Public Schools and the Office of Petersburg's City Manager.

Moving forward, Petersburg City Public Schools will house news and information about the 

P

artnership

 

on its website
.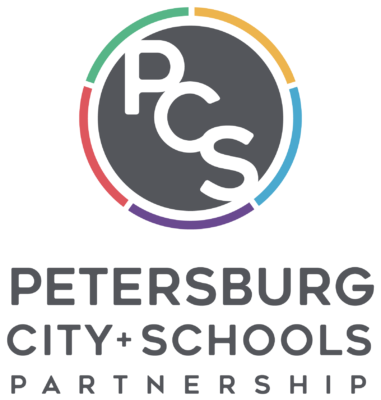 United Way recognizes that school engagement, high school graduation and College and Career Readiness are critical Steps to Success for young people in our service area. One of the ways we lived out our commitment to support healthy and thriving communities and empower individuals to succeed was through our support of the Petersburg City + Schools Partnership from 2015-2021.
The Petersburg City + Schools Partnership is led by the Superintendent of Petersburg City Public Schools and the Office of Petersburg's City Manager.
Priority Areas
The Partnership is focused on three main priority areas:  
Increasing student a

ttendance

.

We supported Petersburg City Public Schools in reaching its goal of having 95% of students in school every day. We did this through

recruitment of partners who provide student and teacher incentives as well as through systems-level partnerships leading to student engagement, wellness and success.

 

Bridging the gap from high school to workforce

.

 We built conditions supportive of 

 

the PCPS vision that every student will (a) graduate with the ability to earn a living wage and (b

) connect

 with livable-wage employment post-graduation.

 

Supporting a resilient Petersbur

g

.

 We

supported a citywide climate that strengthened the resilience of families and students throughout Petersburg.  

 

 
Frequently Asked Questions
The Petersburg City + Schools Partnership was established in 2015 under Governor Terry McAuliffe's Children's Cabinet as part of the Challenged Schools Initiative in order to holistically address the needs of Petersburg's students, ensuring they would get to school healthy and ready to learn.  

Below are just a few of the successful initiatives the Partnership has spearheaded: 
The development and launch of the Crimson Clinic at Petersburg High School, providing access to primary and behavioral healthcare to students

.

 

A homeless student housing pilot project designed to support homeless high school students and their families

.

 

Advocacy to secure funding for additional "social workers in schools" who support attendance efforts across the city through DSS

.

 

Development of The Magic Card

,

 which provides PCPS students with access to transit, the YMCA and the library during summer months.

 
Collective impact is the collaboration model used by the Partnership.  It is an "all hands on deck" approach to collaboration and problem solving that includes tackling and tracking progress on complex social problems together with cross-sector partners and stakeholders. As everyone works together instead of in silos, we co-create a more sustainable impact on the communities we serve. Watch this video to learn more.

Contact
For more information about the Petersburg City + Schools Partnership, contact:
Seth Stephens
Chief Communications Officer
Petersburg City Public Schools
grstephens@petersburg.k12.va.us