Richmond YPQI
Many of us have fond memories of summer camps or after-school programs. That special place or person who helped us learn, grow and expand our thinking during periods when we weren't in school.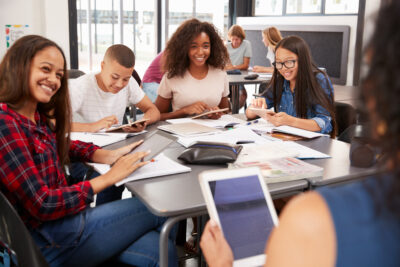 United Way's Youth Program Quality Intervention (YPQI) program provides research-based training to help these programs be as good as they can possibly be.  
Out-of-school time programs like camps and after-school activities play a key role in helping young people stay engaged in middle school and on track to graduate high school on time. Our YPQI program offers a research-based approach to training and development for the people who run these important programs.  
Our YPQI program includes: 
Quality assessments for programs to help them identify strengths and weaknesses

 

Development of improvement plans that create a path for programs to address growth areas

 

Individualized coaching to help staff execute on their improvement plan

 

Trainings for youth workers and program managers
Coming Soon: A Fresh Approach
Here at United Way of Greater Richmond & Petersburg, we believe in continuous improvement. That's why we're taking a fresh look at all aspects of Richmond YPQI and working on a plan to improve the program to better serve the community. We look forward to sharing more information in 2021! 
In 2009, a needs assessment of youth program staff in the Richmond area indicated the need for increased training and development opportunities to improve the overall quality of out-of-school time programs like summer camps and after school programs. United Way of Greater Richmond & Petersburg responded to this need by convening local leaders and implementing a quality improvement process for youth-serving programs in our area.
In the years ahead, this effort incorporated r
esearch on quality improvement programs and assessment tool
s. 
Y
outh Program Quality Intervention
came to the Greater Richmond 
r
egion in 2012
with
 initial support from the Forum for Youth Investment
 a
nd in p
artnership with Hanover County Youth Services. Since 2012, Richmond YPQI has grown from 
five
participating programs to 51
in the 201
9
-20
20
 cohort.
T
he program 
was 
delivered in partnership with VCU's Mary and Frances Youth Center
 for 
eight
 years beginning in 
20
12
. 
United Way of Greater Richmond & Petersburg assumed full responsibility for 
the operation
 of Richmond YPQI in 2020. 
Donate to your local United Way and help us continue offering programs that help students stay engaged in middle school. Just visit our donation page and select Middle School Engagement in response to the question, "Do you want to support an individual component of our work?" 
Contact
For more information about Richmond YPQI, contact United Way's Frank Cardella (cardellaf@yourunitedway.org). 
Learn more about our Virtual YPQI 2020-21 Program taking place is response to COVID-19.
Important Update (July 2020)
As of July 1, 2020, United Way of Greater Richmond & Petersburg has assumed full responsibility for the operation of Richmond YPQI. Both United Way and The Mary and Frances Youth Center remain committed to quality youth programming. Learn more.