The Workforce Partnership Team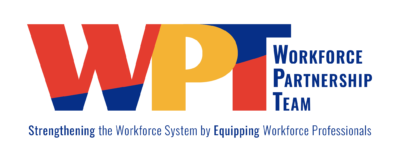 Securing a steady, sustainable job with a livable wage is a critical element of many of United Way's Steps to Success, including Basic Needs, College- and Career-Readiness and Financial Well-being.
Unfortunately, many Richmond residents face obstacles that prevent them from landing and maintaining a sustainable job. Many others are underemployed with little support towards upward mobility. Common barriers to employment include lack of developed soft skills, inconsistent transportation, insufficient wrap-around support services, lack of social capital, history of incarceration, undeveloped computer skills and lack of education and/or training to increase pay.
United Way is committed to removing these barriers and helping everyone in the Greater Richmond region find a path to success. One of the ways we do this is through the Workforce Partnership Team.
About the Workforce Partnership Team
The Workforce Partnership Team (WPT) brings together workforce professionals and those providing wrap-around services from across the Greater Richmond region. The goals of the team include streamlining services by building a network with strong referral mechanisms, sharing curriculum and best practices and providing professional development opportunities for team members. By setting these goals, the team aims to strengthen the region's workforce system for job seekers, practitioners and employers.
United Way provides backbone support to the Workforce Partnership Team and employs a full-time staff member dedicated to leading Workforce Partnership Team activities.
The Workforce Partnership Team is supported through funding from the Bob and Anna Lou Schaberg Foundation.
More Workforce Partnership Team Content
Read our Q&A with Anna Danese, Director of Workforce Partnerships here.
Read our 2020 feature story on the Workforce Partnership Team here.
Find out about our employment platform, Network2WorkRVA.
Contact
Anna Danese
Director of Workforce Partnerships
United Way of Greater Richmond & Petersburg
danesea@yourunitedway.org