Our Funding Process
We believe in comprehensive solutions to combat our region's most pressing issues.
Through our Steps to Success grants, local nonprofit agencies can apply for funding to help us reach a common goal of bettering our communities.  Every program funded through a Steps to Success grant is monitored, evaluated and measured for effectiveness. In this way, United Way validates that investments get results and make a difference where it matters most. Click here to see a list of our funded partners.
United Way relies on volunteers to support the funding process. The Community Building Committee, a sub-committee of the Board of Directors, oversees two Action Councils which are staffed by a group of dedicated volunteers. Learn more about these committees here.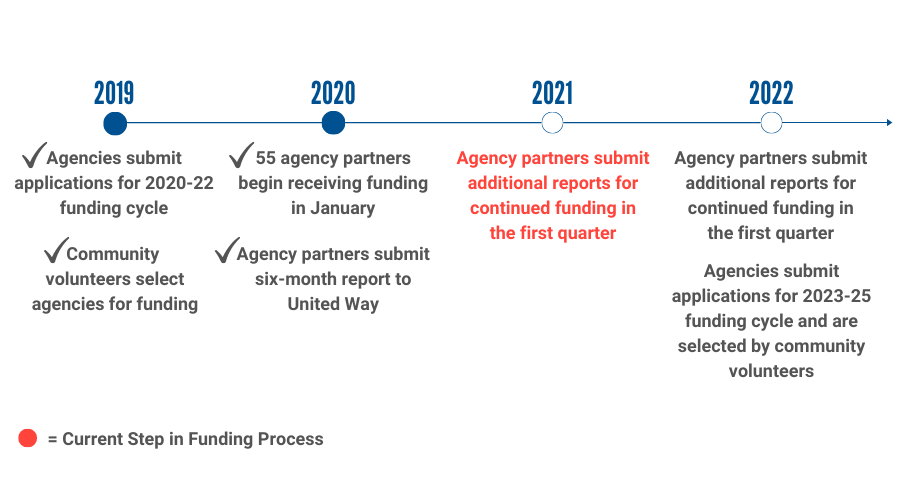 Funding is made possible through the generous gifts from donors who give through workplace campaigns or make individual gifts. Learn more about making a gift to United Way, organizing a workplace campaign at your company or joining one of our giving societies.
Letter of Intent (LOI) – Each organization must submit a letter of intent describing the way they plan to use designated funds.
LOI Review – Once all LOIs have been received, United Way Action Councils will then review and score each letter based on a guide provided by United Way.
Application – Once an organization's LOI has been approved, they will need to fill out a full-length application which describes their program and the ways it aligns with United Way's Steps to Success framework among other critical details regarding the ways the funds will be used. Invitation to complete an application does not guarantee funding.
Application Review – United Way Action Councils will then review and score each application.
Funding Recommendations – United Way way Action Councils recommend grant amounts for each of the selected organizations based on their review of the application and proposed program budget.
Community Building Committee Approval – Action Councils then present their recommendations to United Way's Community Building Committee for approval.
Board of Directors Approval – Once the CBC has approved all funding plans, United Way's Board of Directors will give the final approval.
Notification – Selected organizations will then be notified and an agreement will be signed.
United Way of Greater Richmond & Petersburg opens its Steps to Success grant application process to any eligible agency every three years. The next funding cycle will begin in January of 2023 with open applications in January 2022.
If selected, program grants will be awarded for a one-year term beginning in 2023. If the program demonstrates effectiveness, the agency may apply for continued funding for two additional years.
United Way seeks to support strong organizations and programs that meet an urgent need within our region. Programs should be impactful, sustainable and focused on meeting a need that would not otherwise be met in our region.
Learn more about agencies currently receiving United Way funding here.
For more information on United Way's funding process, contact:
Audrey Trussell
Vice President of Community Investment
United Way of Greater Richmond & Petersburg
trussella@yourunitedway.org