Impact Through Service
Dr. Susan Triggs has taken the time to write about her experience during COVID-19. You can read about how she is staying healthy and engaged during quarantine
here
.
Dr. Susan Triggs has developed an approach to life that seeks to listen to the voices of the most vulnerable members of our society. From non-profit to public sector to retired volunteer, she searches for ways to use the needs of the disenfranchised as a guiding beacon for the service she renders.
Prior to her 13 –year tenure at Virginia Department of Health (VDH), Dr. Triggs worked with non-profits in Pittsburgh, Pennsylvania. From 2004 to 2017, Dr. Triggs served in multiple capacities at VDH, including Public Health Nurse, Health Equity Specialist and Rural Health Program Specialist. Dr. Triggs retired from VDH in 2017. 
Dr. Triggs has presented to groups throughout the Commonwealth of Virginia and nationally. In 2011, Dr. Triggs was invited to present to a group at United Way of Greater Richmond & Petersburg about health equity and community engagement. After her presentation, she was asked to serve on United Way's Community Building Committee, now known as the Community Impact Council (CIC).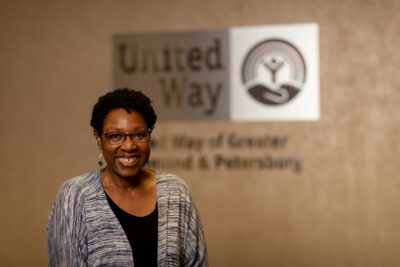 Dr. Triggs's impact and involvement with the CIC has grown over the years. She has served on various sub-committees, overseen multiple funding cycles and led the group as the 2019-2020 chair, a term that will end in July 2020. According to Dr. Triggs, she plans to stay connected to the United Way. "As long as I'm able."  
As the chair, Dr. Triggs knows it is important to listen to perspectives and any nuances of change. Anything that may have been missed is important. "Bringing a different perspective can broaden the conversation, making it more impactful," Susan said.   
2020 was a particularly impactful time for Dr. Triggs and her colleagues on United Way's Community Impact Council. The group announced $8.7 million in community investments and reorganized itself to better serve the community and United Way's network of funded partners during the 2020-22 grant cycle. Dr. Triggs says there is excitement in the room about what is to come for CIC.  
"People come and give their time because they care about those that United Way serves. That care, compassion and desire to give back is what drives all of us forward," according to Dr. Triggs. 
In her free time, Dr Triggs volunteers at her church, drives for Enterprise Holdings, Inc., and until early March 2020 was a board member for the Virginia Governmental Employee Association. Dr. Triggs also sings in her church choir and with One Voice Chorus Richmond.