Pouring Into Opportunities
Ashanté grew up with her mother and grandparents in Church Hill. While she was raised by a single-mother, Ashanté's father and grandparents also played a huge role in her upbringing and success.
"There were always people pouring into me," Ashanté said. "No one ever let me believe in the negative labels society may have readily placed upon me. My family and teachers, like Mrs. Constance Anderson at Bellevue Elementary School, always pushed me to be my best, encouraged me to dream and dared me to believe that I could achieve whatever I set my mind to do."
Growing up, Ashanté remembers the importance of programs like Special Program for Academic and Creative Excellence, Saturday Morning Workshops and Governor's School Summer Program for Math & Science. Today, United Way funds programs that provide similar services, such as NextUp and Communities in Schools — both of which currently lead programs at Bellevue Elementary School.
It's not lost on me that United Way funds many programs that are the same or very similar to the ones that had such a huge impact on my life when I was a student.
In middle school, Ashanté had teachers that pushed her and recognized her potential. When Ms. Lundy assigned a science project that required more advanced chemicals, Ashanté and her dad drove around Richmond and Bon Air trying to find everything she needed. Ashanté worked hard, received an A on the project and showcased her project at the school science fair. It was not until the next parent-teacher conference that Ms. Lundy revealed the project was a college-level assignment. She just wanted to challenge Ashanté and push her to reach higher.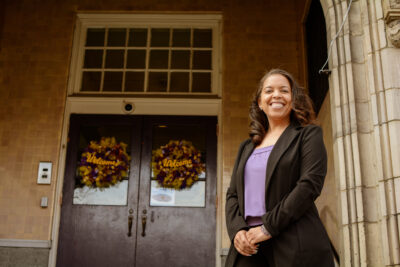 After graduation, Ashanté attended the University of Virginia for both undergraduate and law school before moving back to Church Hill, just a few blocks away from her childhood home where her mother still lives. Ashanté has seen the growth of her neighborhood but knows there is still more that can be done to improve, like finding ways for families and individuals to easily access food. Many nearby areas are known as "food deserts," which means they have no grocery stores within one mile. This contributes to problems like hunger and food insecurity.
Ashanté's upbringing, her participation in local programs and the support she received from caring adults all contributed to her successful journey to her current position as a partner at Troutman Sanders. That is why she gives back to her community through United Way of Greater Richmond & Petersburg. Ashanté recognizes the commitment that her local United Way makes to individuals and families in the region and knows United Way will deliver her investment to the people and organizations who need it the most.
As she describes her experiences and encourages her colleagues to join her in supporting United Way, she holds up a straw.
My philosophy is, 'Be a straw.' If you are a straw, you always have blessings moving through you, which means you will always be giving and receiving those blessings.
Ashanté Smith is a partner at Troutman Sanders. She is also a member of United Way's Alexis de Tocqueville Society.
Your Support Matters
When United Way invests in programs, we are investing in individuals like Ashanté Smith. United Way understands our region's most complex issues, brings people together and makes strategic investment decisions based on our findings. But we can't do it without you.