Steps to a Successful School Year: Middle School
This article is part of a four-part series by United Way's Frank Cardella, a former high school science teacher, education advocate and president of one of the largest educator union affiliates in Virginia.
Click here
to read other articles in the series.
Middle School Engagement
The middle school step is one of the most challenging for both students and parents alike. Changes in body chemistry and brain development make it hard for kids to relate to themselves, and even harder to relate to adults. They are literally and figuratively being pulled in many directions at once, and are desperate for anchors and landmarks, even though they may deny it vehemently. Everything feels magnified—the good and the bad—so make sure to check in with them often. Celebrate success, don't demean failure; acknowledge frustration (yours and theirs), don't dismiss feelings (theirs and yours). Help students identify an academic subject that they like or feel confident about, no matter how small, and keep reminding them that they have something they can build on. After all, steps are meant to be climbed one at a time.
Brain Development: Getting a sense of self.
We often use the words "adolescent" and "teenager" interchangeably, but the former has to do with a time of developmental change in a child's life while the latter is based on numerical age. A compromise word that has been gaining popularity since the late 1980s is "tween," meaning someone too old to be thought of as a child but not yet officially a teen. It is important to recognize that the visible changes that we associate with "going through puberty" are the result of chemical changes that begin sooner. For many children, adolescence starts around 11 years old, right about the time they are entering middle school (6th grade), while they don't become teenagers until they are on their way out. Half of the students that drop out of high school make the decision to do so based on their experiences in middle school; they just don't have the coping skills or the patience to see past their current frustrations.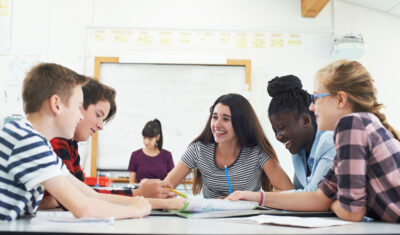 Don't blame the tween; blame the brain. The culprit is the pre-frontal cortex, the region of the brain that controls judgement. If it seems like your middle schooler is completely lacking in common sense, it's because he is: His brain is just starting to wire that network. Sure, it's frustrating that she can memorize 42 joystick and button combinations to execute a "wombo combo" in her favorite video game yet can't remember to bring the right day's backpack to school or to turn in that permission slip on time, but those are different skills controlled by different parts of the brain. She mastered patterns and sequencing years ago, now she's working on evaluation, which is harder. This is the pathway that will get them to executive function over the next 10 years!
"But you don't understand; it wasn't like this when you were in school."
As parents, we're supposed to have all the answers, aren't we? After all, we went to school and we survived. Now it's their turn, so "quit whining and shake it off," right? Wrong!
Yes, our children are supposed to listen to us, to benefit from our experience and wisdom, but if we don't listen to them, then we are only validating their growing (but incorrect) suspicion that their opinions don't matter—that they themselves don't matter. We are denying them an important opportunity to develop that pre-frontal cortex with guidance.
And by the way, they're right: it wasn't like this when we were in school. Advances in technology have brought new challenges that often highlight differences not just in academics but in socio-economics as well. School-issued laptops and other 1-to-1 computing solutions may level the playing field to some degree in the classroom, but lack of access to high-speed internet connections at home and in neighborhoods may create new barriers to students getting their homework done. Remember, adolescents are gaining increased awareness of themselves as individuals, and feeling magnification of differences from peers; they would much rather say they "just didn't do it" than explain why. Standards and expectations are higher, while in many cases resources and opportunities are lower. These factors combine to create levels of stress in our young people that are neither normal nor healthy. Acknowledging their concerns goes a long way toward helping them reduce stress before it becomes toxic.
By the start of middle school, gaps in student learning start to become more obvious, but unfortunately the traditional grade-level structure of our schools causes many of the student supports to occur outside of mainstream instruction, either as pull-outs where students go to another room for help, or as set-asides where students remain in their classroom but work apart from their classmates. These forms of corrective actions, commonly referred to as "Special Education," often carry with them a social stigma that students internalize. Higher Achievement is a United Way partner that helps with Closing the Middle School Opportunity Gap by providing year-round, multi-year interventions and academic supports to struggling students, especially those living in challenging conditions.
The program is rigorous: according to a study published in 2013, "Higher Achievement facilitates measurable, significant academic gains in math and improvements in reading. Gains were equivalent to an extra 48 days of learning in math and an extra 30 days of learning in reading." What does that mean for our local middle schoolers? Last year in Richmond, 74% of participants in the program maintained an A/B average or improved one full letter grade in Math, and 79% maintained an A/B average or improved one full letter grade in English, while 73% improved or maintained advanced/proficient scores on the Virginia SOL Exam in Reading. Your United Way donations make these kinds of results possible!
Being Involved is not the same as Being Invested.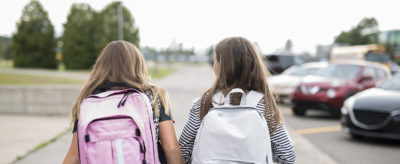 Ironically, during the time that students are becoming more aware of their individuality, they are most susceptible to joining groups that also present themselves as "different," giving them an escape from situations that make them feel like they're not "good enough." This creates a slippery slope where self-segregation and chronic absenteeism (because of assumptions they make about their worth based on acknowledged learning gaps) leads adolescents to make choices that will haunt them for years to come. And remember, because tweens aren't good at critical thinking or evaluation yet, they may believe they are running away from a bad situation when in fact they are running toward a worse one.
When students disengage from learning, from school and from peers, their family becomes their last line of defense. The good news is that—even though they may test your patience—middle schoolers value your approval more than anything else. Help tweens re-engage by engaging with them: Read, listen to music, play video games, watch TV. Whatever you do, do it together and TALK about it! Be genuine in sharing why you like what you like, and why you don't like what you don't. If school wasn't your "thing" growing up, don't pretend it was for your son's sake; tell him what you didn't like about your school, what you wish had been different, and how your view has changed over time. And not just school, engage on things with much lower stakes. If you don't like the music your daughter listens to, play her one of your favorites then let her play you one of hers, and make it okay to laugh at each other's choices. You may find out that it's not the song itself that she likes, but a memory of a time or place that it evokes. It may be hard with your work schedule, but don't let a disengaging tween feel alone.
One United Way partner that keeps middle school students engaged is Boys and Girls Clubs of Metro Richmond. With activity sites at their Capital One Northside Club, Fairfield Court Club, Martin Luther King, Jr. Middle School Club, Southside Richmond Club and Petersburg Club, the Boys and Girls Clubs provide students with safe, structured environments after the school day ends, where they can get academic support, engage in physical activity and benefit from supportive mentoring. Whether students are getting help with math, shooting hoops, opening up to talk about things going on in their lives with someone willing to listen or just enjoying a quiet moment to themselves without anything to worry about, this space can be a powerful source for help and for hope.
Since the goal of these programs is simply (but significantly) to keep students engaged and on-track more than to narrow learning gaps, measuring their impact looks a little different than some of the other partner programs we've highlighted. As year-long after school programs, consistent attendance of the participants is used to gauge program effectiveness. Among the five sites, the percentage of students attending an average of three days or more per week throughout the 2016-17 school year ranged from 62% (Petersburg) to 90% (Fairfield Court).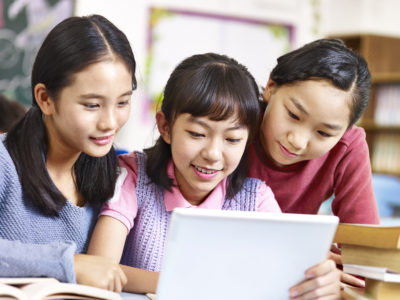 Middle school represents the last, best chance to get students on track to graduate from high school on time and become college or career ready with a realistic chance at achieving financial well-being. Closing existing learning gaps at this landing is challenging, and to do so it is helpful to look further back in the education process to see where they came from in the first place. It is critical that parents, friends and family members and community partners actively engage adolescent students along their Steps to Success.
Keep reading this series: 
Frank Cardella is the Director of Community Impact for United Way of Greater Richmond & Petersburg. Prior to joining United Way, Frank served the public good for 20 years as a high school science teacher, education advocate and president of one of the largest educator union affiliates in Virginia.