Cards of Encouragement
In addition to making a donation to the Central Virginia COVID-19 Response Fund, United Way volunteers can pass along their care and encouragement to the critical front-line organizations and individuals helping others through the ongoing effects of COVID-19.
Follow these steps to get started: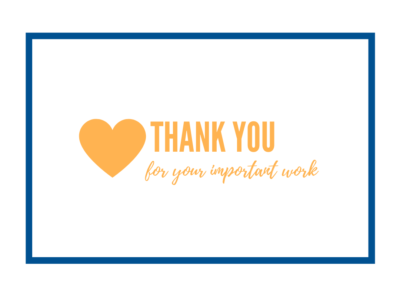 Email volunteer@yourunitedway.org with your name, the name of your group (if applicable) and the anticipated number of cards to be created.
United Way will send you printable templates to write your message and provide you with instructions on where to send the cards.
Once you have the templates, we encourage you to get creative! Write a heartfelt thank you, invite children to contribute notes – people of all ages can participate in this meaningful activity.
The Central Virginia COVID-19 Response Fund is providing rapid support to community organizations that are meeting the needs of individuals and families most affected by the coronavirus pandemic. United Way is collecting donations to the fund through our website.