[bs_lead]Mollie Brooks has both a personal passion for service and a professional role as Community Relations Manager at Genworth, which means she spends a lot of time with a lot of different nonprofit organizations in the Richmond area. But she has a special place in her heart for United Way.[/bs_lead]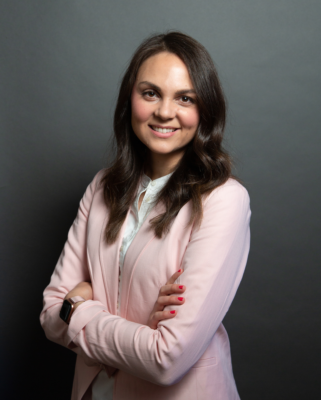 Her first exposure to United Way came when she was an undergrad at James Madison University, where she served as an intern for United Way of Harrisonburg and Rockingham County. In that role, Mollie participated in the grant making process, joined the team on site visits and sharpened her interest in nonprofit management.
"I really liked how United Way identified organizations to fund," Mollie said. "They do a great job of understanding needs in a community and ensuring funding is going to programs that are really driving systemic changes."
After college, Mollie moved to D.C. where she participated in a Board Leadership Training Program at United Way of the National Capital Area. In 2016, Mollie moved to Richmond to pursue a master's degree in nonprofit management at the University of Richmond. Of course, she immediately connected with her local United Way.
Mollie dove head-first into a volunteer role with United Way of Greater Richmond & Petersburg, beginning with her service on United Way's Education Action Council, a group of volunteers that reviews data and provides grant recommendations to United Way's Community Building Committee.
"In the beginning, I wanted to learn about the ecosystem of nonprofits in Richmond and build relationships. United Way seemed like the best place to do that given their support of so many nonprofits in the area."
Her volunteer work with United Way continued to expand as she settled into the Richmond area. Just last year, Mollie became a member of United Way's Young Leaders Society, a group that brings together young professionals committed to giving, advocating and volunteering in the Richmond region.

Mollie's education and personal passion intersected when she joined Genworth's Corporate Social Responsibility team in 2016. During her first two years at Genworth, she managed the employee giving and volunteer programs. She currently manages foundation grants and community sponsorships in Richmond, a role that keeps her connected to United Way.
It's particularly rewarding for her to educate her colleagues about United Way and encourage them to support the organization throughout the year.
"It is challenging these days to choose where to give your money," Mollie said. "There are so many great organizations addressing issues like early childhood education and healthy aging. But United Way – particularly with their new Steps to Success framework – covers multiple focus areas at the same time. That is why I love volunteering with United Way and supporting them in both my personal and professional roles."