[bs_lead]Dr. Susan Triggs has developed an approach to life that seeks to listen to the voices of the most vulnerable members of our society. From non-profit to public sector to retired volunteer, she searches for ways to use the needs of the disenfranchised as a guiding beacon for the service she renders.[/bs_lead]
Prior to her 13 –year tenure at Virginia Department of Health (VDH), Dr. Triggs worked with non-profits in Pittsburgh, Pennsylvania. From 2004 to 2017, Dr. Triggs served in multiple capacities at VDH, including Public Health Nurse, Health Equity Specialist and Rural Health Program Specialist. Dr. Triggs retired from VDH in 2017.
Dr. Triggs has presented to groups throughout the Commonwealth of Virginia and nationally. In 2011, Dr. Triggs was invited to present to a group at United Way of Greater Richmond & Petersburg about health equity and community engagement. After her presentation, she was asked to serve on United Way's Community Building Committee, now known as the Community Impact Council (CIC).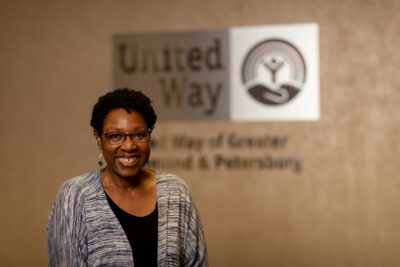 Dr. Triggs's impact and involvement with the CIC has grown over the years. She has served on various sub-committees, overseen multiple funding cycles and led the group as the 2019-2020 chair, a term that will end in July 2020. According to Dr. Triggs, she plans to stay connected to the United Way. "As long as I'm able."
As the chair, Dr. Triggs knows it is important to listen to perspectives and any nuances of change. Anything that may have been missed is important. "Bringing a different perspective can broaden the conversation, making it more impactful," Susan said.
2020 was a particularly impactful time for Dr. Triggs and her colleagues on United Way's Community Impact Council. The group announced $8.7 million in community investments and reorganized itself to better serve the community and United Way's network of funded partners during the 2020-22 grant cycle. Dr. Triggs says there is excitement in the room about what is to come for CIC.
"People come and give their time because they care about those that United Way serves. That care, compassion and desire to give back is what drives all of us forward," according to Dr. Triggs.
In her free time, Dr Triggs volunteers at her church, drives for Enterprise Holdings, Inc., and until early March 2020 was a board member for the Virginia Governmental Employee Association. Dr. Triggs also sings in her church choir and with One Voice Chorus Richmond.
For the sake of full disclosure, you must know that I am an only child. My years of practicing being alone and entertaining myself during my childhood have made self-quarantining a natural transition for me as a 70-year-old retiree considered one of the most vulnerable members of the population. With that disclosure out of the way, let me share some of the things I have done to make sure I have what I need, and my days remain as bright as possible.
When I buy staples, I always buy the largest size, so I have enough to last for a while and do not have to keep going to the store for these items. Fortunately, I had just stocked my supply of toilet paper and paper towels when this pandemic hit. I am a bit of a news junky, so I could tell early on I needed to stock my cupboards and my freezer. During my recent surgery, I discovered InstaCart (the online shopping service) and knew I would be able to use it along with store pick up options to weather this storm. Amazon has also been a great option for getting what I need without having to go out.
Though I am an absolute introvert, I have great support systems of people that have checked on me and made sure I am OK and have what I need. Support systems are such simple structures that anyone can create: Ongoing communications with family; FaceBook friends and groups; Messaging (texting) groups of a few friends (a place where we make sure everyone is OK and lend an ear and/or tangible items if needed); check-ins with people who seem to be missing in the communication streams to be sure they are OK. I try to call friends that seem to be missing to check on them. We all have our own way of dealing with being quarantined, so we need to look out for each other. I am very grateful for the friends who call to check on me.
There are times when I need to go out to a doctor's appointment or to the store. During my outings, I wear a face mask along with gloves and a hat. When I return home everything I am wearing goes in the washer, I take a shower, and everything I have brought into my home is sanitized before I use it. This is a lot of work, but we must make sure we remain healthy.
MUSIC IS A HEALING BALM FOR ME, SO I AM LISTENING OR SINGING HAPPY SONGS AND JOYFUL MELODIES QUITE A LOT. THERE ARE AMPLE OPPORTUNITIES ONLINE FOR LISTENING TO ORCHESTRAS, CHORAL GROUPS, AND INDIVIDUAL ARTISTS AT NO COST. MUSEUMS ARE OFFERING NO COST TOURS ONLINE. NATIONAL PARK TOURS ARE AVAILABLE.
We are so fortunate to live in this time when we have access to television and internet. I do not have cable, but I have access through my Roku and my antenna to everything I need. This really is a wonderful time to watch how our world is innovating to make meet ups and whatever else we need available.
Do I get lonely and feel anxious? Absolutely! I have decided though that, since this will be a long process before things get back to a redefined normal, I will not be depressed. When I feel lonely, I call someone. When I feel anxious, I pray. When I feel sad, I use music to wake up my "happy" endorphins. This is the only way I see for surviving what will be many days of quarantining. My process each day is getting up and getting dressed, making my bed (most days), and acting like I am going somewhere and have something to do. I have made a choice to try to be productive every day. This can be a battle for me because I love, love, love relaxing, but I fight it so I am not lulled into a downward spiral.
My initial response to being at home so much was to become one with my refrigerator. My weight gain was horrifying! I weigh myself daily, so I know where I am headed, so I had to do something drastic. Weight Watchers Online was the answer for me. I changed what I was cooking and started keeping track of everything I put in my mouth. Very easily the pounds fell back to a better place. Eating is a daily battle for me, so I am vigilant about this. I read something that suggested wearing a bathing suit instead of pajamas everyday would cure any problem with overeating during quarantine. Fortunately, I did not have to get that drastic with myself. After a while, I realized I was not moving enough. I pulled down my yoga mat and my exercise ball, purchased a mini cycle so I can stay in my home, stretch and work my muscles.
For now, I am OK, but this is only the beginning of April. Governor Northam's stay-at-home order is until June 10th. I plan to survive. How about you?
Read more about Engaging with Children While at Home and Staying Connected and Healthy during COVID-19.