Equity Data Series: Third Grade Reading
In our service area, 

one in 

four

 students

 is not reading proficiently by third grade

. 

In 

high

–

poverty

 areas

, the 

third grade

 reading SOL pass rate is as low as 61 percent, compared to the state average of 75.6 percent.
---
Inequities in Third Grade Reading
We used third grade SOL data to identify inequities in Third Grade Reading in our region. Here's what we found: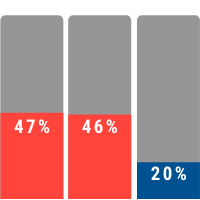 47% of Black students and 46% of Hispanic students failed the third grade reading SOL while only 20% of white students failed.
Third grade is a pivotal point for reading. Standardized tests measure student learning and are used as a predictor of future performance. Scores can be used to compare school systems, to determine resource allocation and to track individual school improvements over 
time.
Visit our Indicators of Community Strength pages to look at third grade SOL data across our region.
---
How United Way Helps
United Way of Greater Richmond & Petersburg currently funds five programs at four local nonprofits supporting Third Grade Reading. Our total 2020-22 investment in this area is $615,000. 
The Literacy Lab embeds rigorously trained, full-time AmeriCorps literacy tutors in high-need elementary schools to help improve Third Grade Reading skills. In the 2019-20 school year, The Literacy Lab recruited, trained and embedded 46 tutors in elementary schools in Henrico County, Petersburg and Richmond Public Schools. These tutors provided daily literacy intervention to 783 K-3 students with each tutor working with a caseload of 15-18 students and providing 20 minutes of one-on-one evidence-proven reading intervention five days per week. 
When the COVID-19 pandemic hit, The Literacy Lab responded. One recent analysis of the long-term impacts of extended school closures found an anticipated disproportionate impact along racial lines – Black students may experience 10 months of COVID-related learning loss, Hispanic students may experience nine months loss and white students may experience six months loss.  
These findings highlight the risk of further widening the literacy gap in the Richmond area during school closures as the region has high concentrations of students of color and students from low-income households. In virtual setting, it is increasingly challenging for teachers to provide one-on-one targeted support that students need. The Literacy Lab remains committed to providing literacy support to students – particularly in the critical pre-K to third grade window – to ensure that the literacy gap does not widen further. 
Currently, The Literacy Lab has transitioned to a virtual instruction model. By the end of the 2019-20 school year, tutors had completed 116 virtual support sessions, spent 4,400 minutes supporting students and families on their virtual platform and created 106 videos for students and families to practice literacy skills. They are beginning the 2020-21 school year operating at full capacity. 
Peter Paul Development Center serves youth in the After-School Learning Immersion Program and Summer Promise at Fairfield Elementary in the City of Richmond to support Third Grade Reading improvement efforts and provide quality out-of-school time activities. 
Students served by Peter Paul Development Center live in Richmond's East End, which is one of the most economically disadvantaged areas in the City of Richmond. Peter Paul is in an area marked by a high concentration of poverty and marred by violence. That area consists of nearly 4,000 students. Recent data shows that 75 percent of students live in single-parent households, two out of three students live in public housing and 50 percent live in households that earn less than $10,000 annually. 
This program equips students for long-term success by providing them with intensive academics in a supportive community of family and friends. Students receive academic instruction, reading and math assistance, mentoring and tutoring. Weekly lesson plans incorporate project-based learning and S.T.E.A.M. (science, technology, engineering, arts and math). Key to Peter Paul's program is its individualized approach to academic instruction plan – Peter Paul Education Plan (P-PEP) – which charts student data, areas of strength and weakness and student aspirations. Peter Paul receives all students' report cards from RPS to track their grades, attendance and behavior notes to better inform their afterschool instruction. 
As of March 2020, prior to the suspension of in-person learning due to COVID, 258 students were enrolled in Peter Paul.  Those students attended the Youth Program an average of 77 percent of program days. In response to the pandemic, Peter Paul began facilitating live, online lessons, workshops and enrichment activities for children to do at home. Activities were designed to complement online learning tools created by Richmond Public Schools, and working with a number of partner organizations, offered activities that included yoga, mindfulness and meditation, dance and step, art and S.T.E.M. Peter Paul will begin the school year continuing to operate virtually for at least the first nine weeks with the hope of eventually having small groups back at the Center. 
Peter Paul expects to see the profound impact of COVID-19 on the population they serve as schools re-open. Evictions and debt collections will resume, and many of Peter Paul's parents may no longer have jobs to return to. As a result, Peter Paul anticipates a greater need for their services. They have modified programs and distribution of resources to address that situation. 
---
How Can You Help? 
Designate a donation to Third Grade Reading today. Your donation helps us make equitable education a reality for our region.
DONATE
---
Learn more about United Way's Data Equity Series: