Melicka tearfully remembers her daughter Justice's first five months: She couldn't keep milk down, had trouble eating and was constantly vomiting. "We rushed to the hospital more times than I can remember," said Melicka. "In fact, one time, on the way to the hospital, Justice stopped breathing, so I had to perform CPR in the car."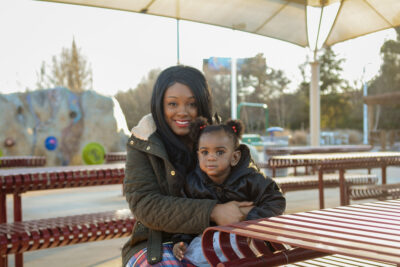 The doctors were finally able to diagnose Justice with acid reflux, weak muscle strength and a "failure to thrive." Melicka was heartbroken as she came to terms with the fact that the road ahead was going to be a long one for Justice. "I didn't know what was ahead and I didn't know what to do," Melicka recalled. "There is no rule book for parenting, and there certainly isn't one for parenting when your child is falling behind."
Justice's pediatrician recommended SOAR365's pediatric therapy, a program funded by United Way of Greater Richmond & Petersburg. Melicka was relieved to know where to begin. When Justice started occupational therapy in November 2019, she was on a feeding tube and couldn't pick up her head or move.
One month into the therapy sessions, Justice could hold her head up. Melicka was amazed by the progress in those weeks, and so it was time for her and Justice's therapist to adjust their short-term goals to reflect this progress and make some new long-term goals.  "I could see this was going to be a lot of work for Justice, and so my job was to help her achieve these goals," said Melicka.
Justice's next short-term goal was to sit up, and by March 2020, she had hit that goal. Mission accomplished! By April 2020, Justice started weekly physical therapy. Shortly thereafter, she added speech therapy.
"Then, things started soaring! She was sitting up, grabbing for things and even getting a little sassy! I was so thrilled to see her personality emerging," explained Melicka with a big smile. "Before therapy, Justice didn't even want to look at herself in the mirror. Now, her whole attitude has changed. She is anxious to play with others and wants to go, go go!"
Melicka has been Justice's strongest supporter in this journey, but she gives volumes of credit to the therapists at SOAR365. "I would have never been able to do this myself," she says. "They make it look so easy, but what they do is phenomenal."
"At SOAR365, it's more than just therapy," explains Melicka. "Everyone is so helpful and resourceful…they help me navigate the system, understand opportunities and figure out things."
Now, Justice is moving at lightning speed using a "therapeutic stander" to keep up with her cousins and friends, and she's singing, using hand signs and starting to talk.
"Her therapists at SOAR365 are like family," Melicka says, and she adds that Justice loves going to her therapy sessions.  And at SOAR365, her therapists love her right back.
About United Way & SOAR365
United Way of Greater Richmond & Petersburg is a major funder to more than 50 local organizations, providing millions of dollars annually to a range of agencies including SOAR365 and dozens more. These partner agencies are working on the front lines to help people like Justice and Melicka in communities throughout our service area.
SOAR365's pediatric therapy program provides therapy services to young children who have, or are at risk for, developmental disabilities under United Way of Greater Richmond & Petersburg's Kindergarten Readiness Step to Success. This program helps children develop gross motor, fine motor, communication, social and problem-solving skills and is one of three SOAR365 programs funded by United Way of Greater Richmond & Petersburg.