Preparing children for kindergarten so they start school confident and ready to learn.
United Way's Kindergarten Countdown Camp is a free summer learning program for rising kindergarten students with limited to no preschool experience.
Outcomes
How are outcomes measured?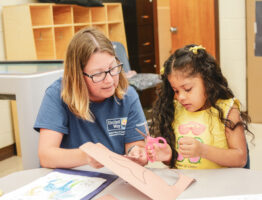 Each Kindergarten Countdown Camp participant is given two kindergarten readiness assessments: one at the beginning of camp and one at the end. The kindergarten readiness assessment examines eight skills including the recognition of letters, colors, shapes, rhyming words, the ability to write their names, count and identify numbers, book familiarity and how to use scissors. The assessment also measures students' social emotional skills. Teachers suggest children should at least be "in progress" on these key skills when starting kindergarten.
This program helped my children get acquainted to being away from me. It exposed them to other kids and other adults with authority. I feel like it really helped them understand what to expect when they enter kindergarten.
– Kindergarten Countdown Camp parent on the impact.
Kindergarten Countdown Camp participants are measured on academic progress and social emotional progress at the beginning of and at the end of camp.
[bs_collapse id="collapse_0482-d16e"]
[bs_citem title="Readiness Skills" id="citem_83d7-a4cc" parent="collapse_0482-d16e"]
[bs_citem title="Social-Emotional Skills" id="citem_684d-f001″ parent="collapse_0482-d16e"]
General Coordination
Focus in activities
Follows rules
Follows 2-step directions
Works and plays cooperatively with peers
Participates in group activities
Handles frustration well
Appropriately expresses needs and wants verbally
Expresses empathy or caring for others
Tells about a story or experience
Demonstrates curiosity and eagerness for learning
[/bs_citem]
[/bs_collapse]
The Data (2019)